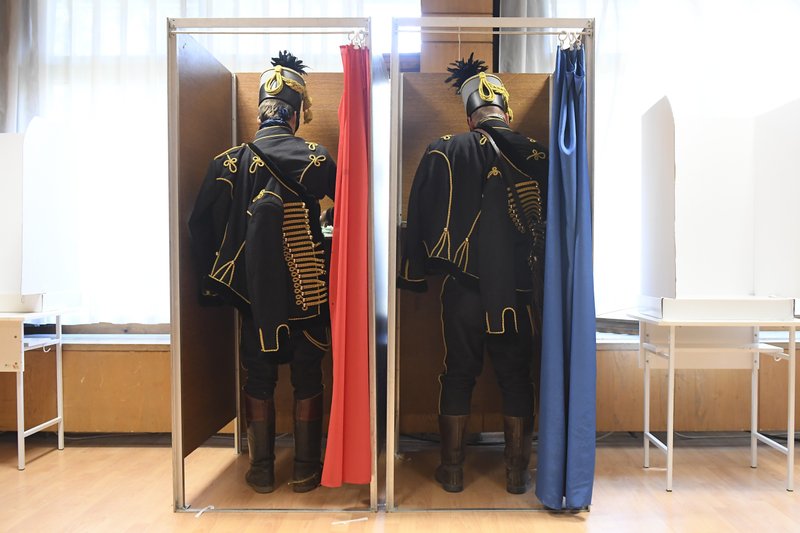 Hungarian Prime Minister Viktor Orban easily won a third consecutive term Sunday and his Fidesz party was poised to regain its super majority in parliament, according to preliminary results from the country's election.
With 84.7 percent of the votes counted, Fidesz and its small ally, the Christian Democrat party, had secured 133 of the 199 seats in the legislature, the minimum needed for a two-thirds majority. The right-wing nationalist Jobbik party placed second with 26 seats, while a Socialist-led, left-wing coalition ran third with 20.
Only two other parties, former Prime Minister Ferenc Gyurcsany's Democratic Coalition and the green Politics Can Be Different party were expected to surpass the 5 percent threshold needed to form a parliamentary faction.
Orban won his fourth term overall on a platform that openly demonizes migrants to Europe.
Opposition parties feared that another super-majority would allow the autocratic leader to more easily push through constitutional changes, continue his crackdown on civic groups that he claims work against Hungarian interests and further strengthen his grasp on the highly centralized state power structure.
Orban has campaigned heavily on his unyielding anti-migration policies. He claims that the opposition is collaborating with the United Nations, the European Union and wealthy philanthropist George Soros to turn Hungary into an "immigrant country," threatening its security and Christian identity.
"Hungarian democracy is strong," Gergely Gulyas, the parliament faction leader for Fidesz, said. "Alongside high voter turnout, the country will have a strong, legitimate parliament."
Government influence on the media was palpable in Sunday's broadcast by state television M1 news channel, where reports highlighting the negative effects of migration dominated the programming.
On Origo.hu, a formerly independent website now owned by government allies, stories promoted Orban while also focusing on migration, The headlines included "Migrant gangs fought in England," ″They can't stand it anymore in Sweden: They've had enough of migrants," and "A migrant in underpants beat a German retiree half to death."
The opposition denies Orban's claims on migration.
Uncertainties about Orban's expected margin of victory are due in part to Hungary's complex electoral system, in which voters cast ballots for both an individual candidate in their region and another for a party list.
Opposition parties had urged Hungarians to vote tactically for the candidate with the best chance to defeat the Fidesz candidate in the 106 individual districts — and they appeared to have won 15 individual seats compared to 10 in 2014.
Still, Fidesz improved its results in terms of the 93 distributed based on votes for entire party lists, getting 49.1 percent compared to 44.9 percent four years ago.