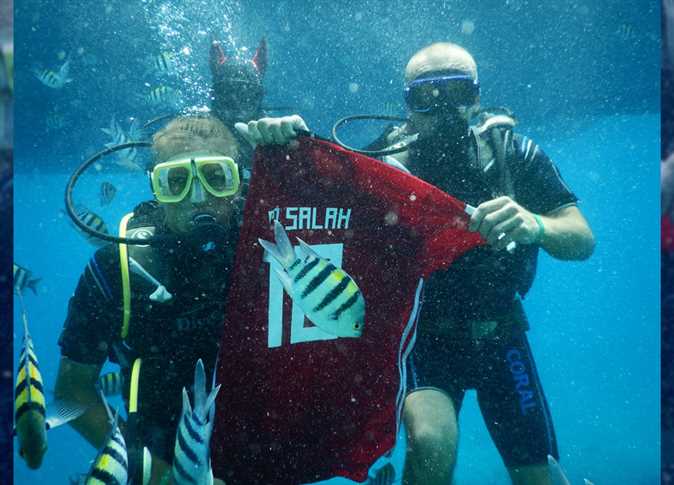 Foreign tourists and Egyptian divers dove into the Red Sea to stand by Egypt's football hero Mohamed Salah in his on-going feud with the Egyptian Football Association (EFA).
Between the coral reefs and colored fishes of Abu Ramad, near Giftun Island, the divers raised up Salah's T-Shirt underwater as an expression of their love and support.
Saeed Abdel Jawad, a diving coach, said that tourists from various countries bought Salah's T-shirt and decided to raise his shirt during their diving practice in order to make their statement clear.
The Salah-EFA dispute became public after Salah wrote on twitter asking why the EFA wasn't answering his complaints.
"It is natural for every association to try and solve its players' problems, and ensure their comfort…However, I've been seeing the exact opposite happening…Is it normal for my messages and my lawyer's messages to be ignored? And why is that? Don't you have enough time to give us a reply?!" Salah said.
The EFA reportedly answered back with a strongly worded statement threatening to take Salah over to the disciplinary committee, which they later denied.
Salah posted several videos on his Facebook account detailing the issue. He demanded his team be given better security, business-class flights and quiet camps to help them focus while training.
Reports of mismanagement by the EFA went viral following the Egyptian team's exit from the 2018 World Cup. The sponsoring company for the team reportedly booked the same hotel for the players, pubic figures, and artists, throwing their schedule into chaos.
Salah said that the day they arrived at the World Cup camp he only went to bed at 6 am.
In June various parliament members called to setting up a fact-finding committee to investigate possible corruptions by the EFA during the 2018 FIFA World Cup in Russia.
Edited translation from Al-Masry Al-Youm