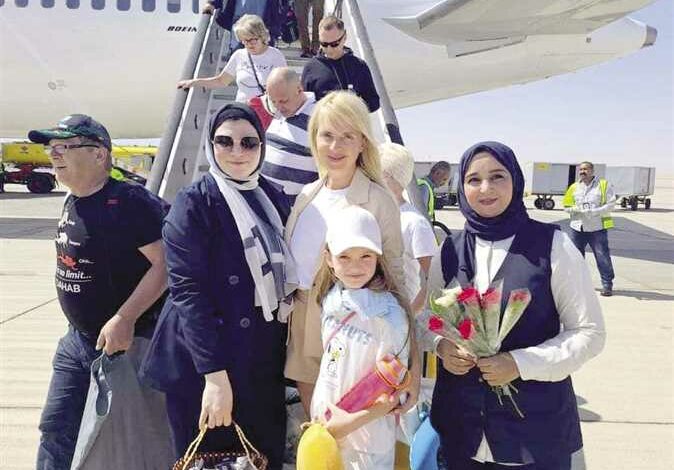 The Hurghada and Marsa Alam international airports on Sunday received 168 flights carrying about 24,000 tourists of various nationalities.
The operating schedules for the daily arrival movement at Hurghada International Airport revealed that 147 international flights arrived from German, English and Russian airports, while Marsa Alam Airport received 21 flights.
Hurghada International Airport received nearly 3.25 million passengers in the first half of 2023 with a total of 22,000 flights, an increase of 30.5 percent compared to the same period last year.
Sharm el-Sheikh International Airport received 2.25 million passengers, with a total of 16,000 flights, an increase of 28 percent compared to the same period last year.
It ranked among the best airports in Africa in terms of services provided to tourists, according to the annual report issued by Airports Council International (ACI) on the performance of the aviation industry in Africa during 2022, which is an achievement for the aviation sector.
Hurghada International Airport ranked fifth, according to the ACI's classification, among the top ten African airports in terms of number of passengers.
The Hurghada Airport is witnessing development work to construct a new passenger terminal to serve international and domestic flights, with a capacity to accommodate 7.5 million passengers annually, bringing the airport's capacity to 13 million passengers annually to completely eliminate any congestion.
It will also construct a new runway for aircraft with a length of four km, parallel to the current runway, to serve the latest aircraft.