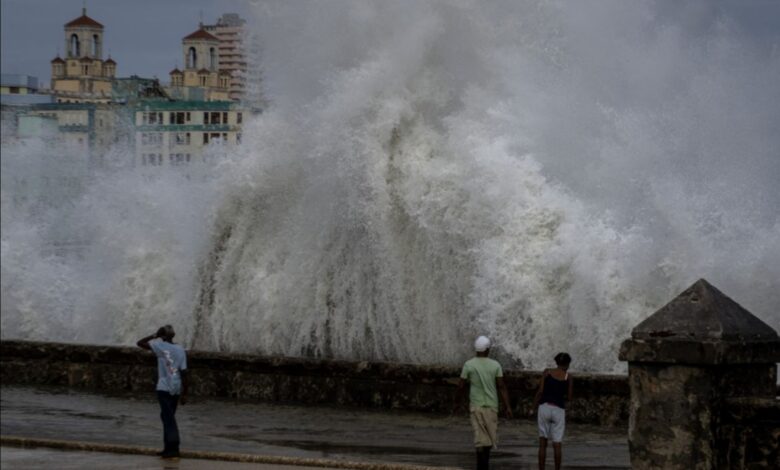 Hurricane Ian brought record flooding to several locations in central and southern Florida.
Radar estimates and ground observation rainfall shows well-over one foot of rain fell in just 12-24 hours across a swath the region. In some of the hardest-hit areas, this exceeds the rainfall rates for 1-in-1,000 year flood events, according to NOAA data.
Even more locations over a wider area saw 500-year and 200-year rainfall rates, and Florida Gov. Ron DeSantis referenced the hurricane's rainfall as "a 500-year flood event" on Thursday morning.
A 1,000-year rainfall event is one that is so intense that it is only seen once every 1,000 years on average under normal circumstances. But extreme rainfall is becoming more common as the climate crisis pushes temperatures higher. Warmer air can hold more moisture, which loads the dice in favor of historic rainfall.
Placida, Florida, had an observed rainfall total of more than 15 inches over 12 hours on Wednesday. This exceeds the 1-in-1,000 year flood event interval of 14.0 inches.
Lake Wales, Florida, received 16.99 inches in 24 hours, which exceeds its 1-in-1,000 year flood event for a 24-hour interval of 16.8 inches.
Other locations that likely had 1-in-1,000 year flood events, but have only been confirmed by radar rainfall estimates, mostly because the hurricane damaged the measuring equipment or power outages, include:
Winter Park: 12 inches in 12 hours
North Port: 14 inches in 12 hours
Myakka City: 14 inches in 12 hours
Rainfall rates in landfalling tropical systems has increased as a result of a warming climate, according to scientists. Numerous other 1-in-1,000 year flood events have occurred in non-tropical systems this year, such as in St. Louis, Eastern Kentucky, and Dallas.