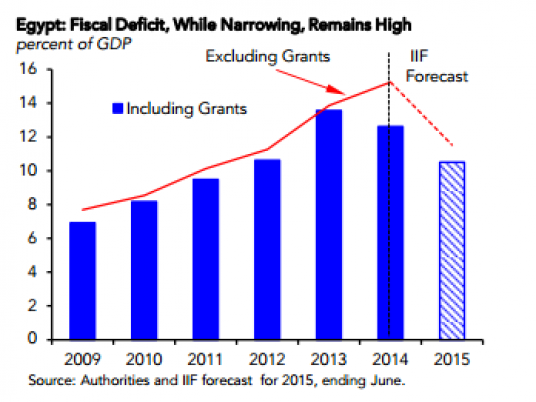 The Institute of International Finance (IIF) predicted Egypt's GDP will rise to 3.7 percent in the coming year, compared to 2.1 percent in the year of 2014.
The IIF's report "MENA Region: Recovery Buffeted by Geopolitical Risks" said, "A moderate economic recovery is underway, bolstered by efforts to revive investment, including the plan for Suez Canal expansion, along with other state-led projects."
A more secure political order, combined with continued large financial support from the UAE, Saudi Arabia and Kuwait, has shored up investor sentiment, leading to a significant pickup in economic activity in recent months, the report added.
"On the other hand, fears of social rupture as the Morsy regime sought to impose an Islamist ideology paved the way for a return to a form of authoritarianism, one that nevertheless seems mindful of the country's recent experience," the report said.
Despite two governmental stimulus packages of a combined 3.3 percent of GDP, real GDP growth remained weak at 2.2 percent in FY2013/14. Low execution levels and disruption in the energy and tourism sectors has held back economic activity, the report explained.
The budget deficit narrowed by one percentage point of GDP to 12.6 percent thanks to official grants, estimated at 2.6 percent of GDP in FY2013/14, the report showed.
Recently, the UAE announced that it would provide a further $9 billion (in the form of grants and credit) worth of petroleum products to Egypt in the current fiscal year. In FY2013/14, the UAE, Saudi Arabia and Kuwait together provided Egypt with $20 billion in grants, loans and petroleum products.