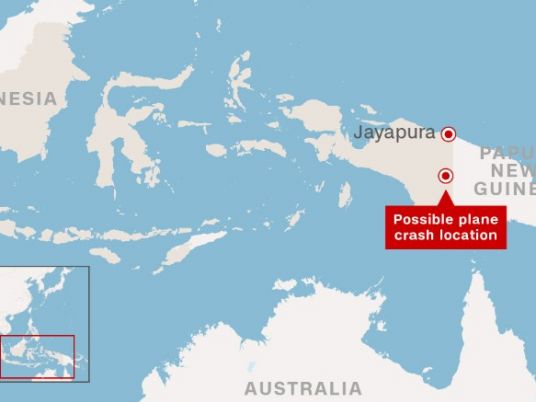 Searchers are struggling with rugged, densely forested terrain and difficult weather as they try to reach debris that's believed to be from an Indonesian airliner that crashed with 54 people on board.
Two search planes on Monday spotted small pieces of debris in a remote, mountainous area of Papua province in eastern Indonesia, said Bambang Soelistyo, the head of Indonesia's search and rescue agency.
He said he thought there was "little chance" of anyone having survived.
Officials deployed two ground teams to head for the site, which is at an altitude of 8,500 feet (2,600 meters), but later had to suspend those efforts because of thick fog.
The teams are currently in the mountains waiting for better conditions and may have to spend the night there, said Tatang, a senior Papua police official who goes by one name.
Search officials are also borrowing a helicopter from Freeport McMoRan, a mining company, that can use hoists and long lines to lower members of the emergency response team to the scene. But officials said the bad weather also prevented the chopper from flying to the site Monday.
Report of crash from villagers
Villagers have reported seeing the passenger plane, which lost contact with air traffic control Sunday, crash into a mountain, according to Indonesian aviation authorities.
The loss of the ATR42-300 turboprop aircraft is the Southeast Asian nation's third air disaster in less than eight months. The flight was operated by Trigana Air Service, a carrier with a troubled safety track record that's banned from operating in Europe.
The plane was carrying 44 adult passengers, five children and five crew members when it went missing just over half an hour into a short domestic flight between Jayapura, the provincial capital of Papua, and Oksibil, an inland town near the border with Papua New Guinea.
All of those on board were Indonesian, authorities told CNN Indonesia.
There was no indication that a distress call was made from the plane, Indonesian Transportation Ministry spokesman J.A. Barata told CNN Indonesia.
He said Sunday that he would be flying from Jakarta, the Indonesian capital, to Papua along with investigators and search and rescue officials.
Few roads, unpredictable weather
The search teams face tough challenges in the dense jungles of Papua's sparsely populated highlands.
Weather patterns are unpredictable in the region, with a tropical climate, tall mountains and moisture coming in from the sea.
Papua has very few roads connecting cities, towns and remote tribal villages. To get where they want to go, people either have to take a plane or a boat — or walk, which can sometimes take months.
"This is a place where some people still hunt their food with bows and arrows while others buy it in supermarkets," the travel guide Lonely Planet says in its description of the province.
A big part of Trigana's business is ferrying people and cargo between different parts of Papua.
Before Sunday's crash, the airline had been involved in 19 serious safety incidents since 1992, according to Flightglobal, a website that tracks the global aviation industry.
Eight of the incidents resulted in the loss of the aircraft, and the 11 others involved major damage, Flightglobal said.
Airline on EU blacklist
Trigana is one of a large number of airlines banned from operating in European airspace "because they are found to be unsafe and/or they are not sufficiently overseen by their authorities," according to the European Commission.
It has been on the list since 2007.
There are many possible reasons for the apparent lack of a distress call on Sunday, CNN aviation analyst Mary Schiavo said. It could indicate that the crew members were too busy dealing with whatever situation arose to have time to send one, or that they simply didn't realize they were in trouble.
The Trigana plane is the third Indonesian aircraft to crash in the past eight months.
In December, AirAsia Flight QZ8501 went down in the Java Sea while headed from Surabaya, Indonesia, to Singapore. All 162 people on board were killed.
And in June, an Indonesian military transport plane crashed soon after taking off from the city of Medan, killing at least 135 people.