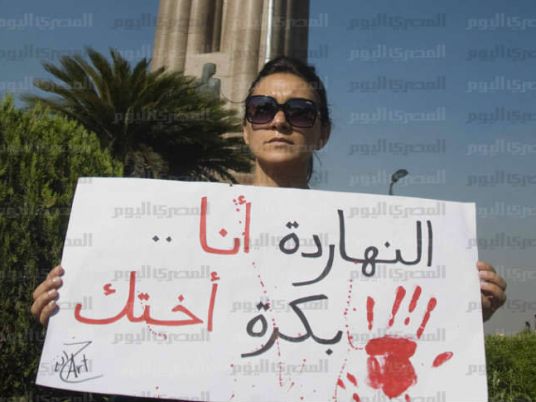 The initiative I Saw Harassment has recorded four separate cases of sexual harassment by police during the second 100 days of President Abdel Fattah al-Sisi's rule from 17 September to 25 December 2014.
A report issued in collaboration with Appropriate Communication Techniques for Development Center (ACT) showed that a policeman working in metro stop sexually harassed a student on 5 November while at Al-Shohadaa metro stop. Arrested by the metro police, he admitted to harassing the victim.
Two other policemen sexually assaulted a woman on 11 November while checking her car's license in Hada'eq al-Qubba district. Her husband, who was a policeman, was beaten by the two officers, as he came to rescue her. He was transferred to hospital for treatment. Prosecution conducted investigation, though reconciliation efforts by Interior Ministry officials ended the issue, the report said.
On 29 November, a woman accused a policeman from Talbiya police station of beating and detaining her as she was trying to report a sexual harassment complaint against him. Another woman accused a policeman of raping her inside the police vehicle in al-Sahel area in Shubra district. Investigators verified the incident and prosecution remanded the policeman for 15 days pending investigations.
The report warned that total number of reported accidents during the duration of the report reached 1,191 in 20 provinces. The highest rate was in Alexandria with 425 accidents (35.68 percent).
The rest of governorates came as follows: Cairo (364 cases, 30.56 percent), Kafr al-Sheikh (104 cases, 8.73 percent) Gia (58 cases, 4.87 percent) Minya (53 cases, 4.45 percent) Beheira (45 cases, 3.78 percent) Sharqiya (323 cases, 2.69 percent) Red Sea (29 cases, 2.43 percent) South Sinai (27 cases, 2.27 percent) Monufiya (11, 0.92 percent)
Founded in September 2012, the initiative was composed of activists of different ages to record sexual harassment cases.