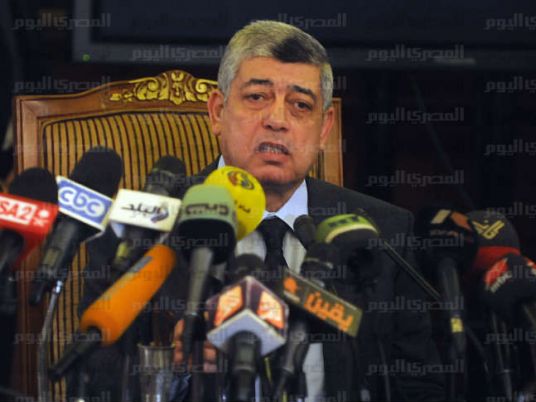 Interior Minister Mohamed Ibrahim said security services foiled plans targeting the president, the defense and interior ministers and leaders of the police force.
"We will not announce the rest of the targeted personalities," he said. "But are securing them well."
He added that the Brotherhood has lost control and the ability to mobilize crowds. "The people reject this terrorist group and we will continue to prosecute it," he said.
When asked if deposed President Mohamed Morsy and other detained Brotherhood leaders order violent acts from behind bars, Ibrahim said the ministry has placed glass barriers so that they cannot speak to their visitors. "But we treat them and all other prisoners in accordance with international human rights conventions," he said.
"All terrorist groups came from under the mantle of the Brotherhood," he claimed, pointing to the Agnad Misr group of students that carried out explosions and assassinations of police and army personnel. "It was founded by the Brotherhood minister Osama Yassin."
"We are doing our best to protect our personnel, but we cannot assign a bodyguard for everyone," he said, adding that the ministry will never forget its martyrs and will continue to provide social care to their families.
He said there are desperate attempts by the Muslim Brotherhood to disrupt the presidential elections. "But we raised our alert and deployed 36,000 officers and half a million policemen and conscripts in the streets to secure the elections," he said.
Edited translation from Al-Masry Al-Youm