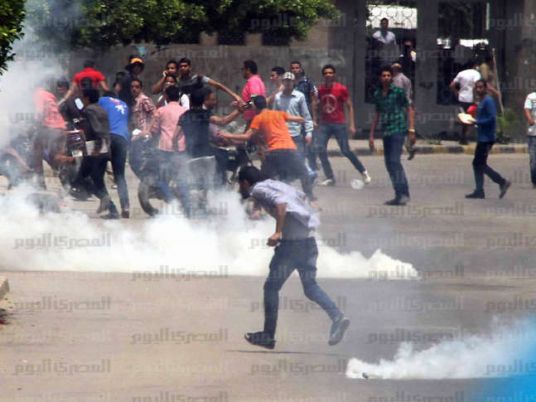 The Interior Ministry said on Wednesday that 34 'rioters' were arrested at several universities on Tuesday.
In a statement, the ministry said that security troops thwarted plans by the Muslim Brotherhood in universities and arrested several suspects possessing tools for rioting. Six bombs were defused in Mansoura University and two stun grenades were found at the vicinity of Beni Suef University.
Security and military troops at Daqahliya governorates entered on Tuesday the Mansoura University campus to end clashes between Muslim Brotherhood students and administrative security personnel. Police fired teargas bombs to disperse the crowds. 15 protesters were arrested.
Dozens of Brotherhood students took part in three marches from the faculties of engineering, sciences and agriculture, heading to the yard of Faculty of Engineering. Students raised photos of several military victims with comment reading "those fight terrorism". They also raised another photo for masked military personnel with a the caption "those fight university students"
Students fired fireworks and chanted slogans against the military and police. The clashes erupted between students and security personnel, when the latter tried to confiscate the fireworks and some of the banners.
Police and central security vehicles entered to disperse the clashes using teargas. Students responded with fireworks and stones.
Armed forces vehicles also entered the university to comb the campus in search for participants who took part in the incidents and to secure the university gates.
In related news, Alexandria University decided to suspend the work on seven professors, dismissed eight students (seven given final dismissal, while one dismissed for one year) and referring 28 students to a disciplinary board for investigations over involvement in violence and sabotage in the university.
Law School Dean Mohamed Bahy told Al-Masry Al-Youm that the professors were suspended for being remanded into custody, adding that the decision is based on law.
"Two professors from Faculty of Commerce, three from Faculty of Education, one from Faculty of Engineering and one from Faculty of Medicine were suspended," Bahy added. "According to the decision, only 50 percent of their monthly salary will be disbursed."
Four of the students with final dismissal decisions are from Faculty of Commerce, while the other three are from faculties of education, law and arts. One student from law school was dismissed for one year for distributing flyers that incite violence on universities.
Twelve of the students referred to investigations are from Faculty of Sciences, while the other 16 belong to different faculties. They were seen on surveillance cameras while rioting during the first week of the new school year.
In Minya, Gamal Eddin Abul Magd, the governorate's university president, announced the dismissal of six Muslim Brotherhood students of Dar Olum faculty for three weeks for protesting on campus.
In Damietta University, students staged protests at the Faculty of Education in support of the military and police against terrorism. They condemned the killing of dozens of military personnel in Sinai on Friday.
Edited translation from Al-Masry Al-Youm