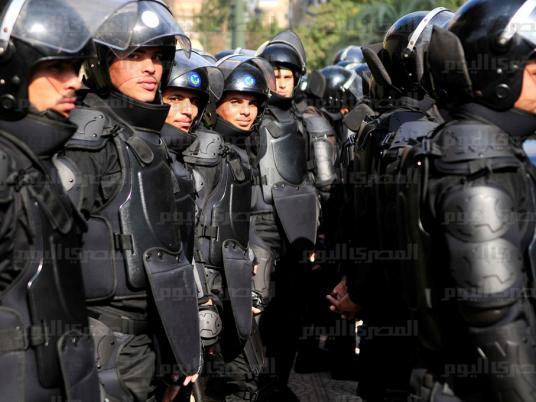 The Interior Ministry issued a high security alert ahead of protests on Friday that commemorate the second anniversary of the 25 January revolution, coinciding with the scheduled declaration of the verdict in the Port Said Stadium massacre trial on Saturday 26 January.
Police officers will be deployed to secure public facilities, police stations, embassies and government headquarters around the country.
Anticipating potential attempts to storm jails or central security facilities, the ministry ordered the transfer of all inmates to central prisons and issued instructions to lock down weapons.
The ministry began implementing its emergency plan on Thursday morning, stationing riot police at high security facilities and churches, and issuing instructions on how to deal with any violations of the law.
Forces on the ground were instructed to file a detailed report with the ministry every hour on the progress of the demonstrations or any events that might threaten public security on Friday.
Omar al-Sherbini, the director of the ministry's department of air police, said that the Air Force would not be involved with securing Friday's demonstrations. Its role was limited to monitoring public assemblies and notifying a control center if alternative traffic routes need to be opened, especially in the center of Cairo and high-traffic areas.
Air police would also monitor any riots or attacks on state institutions or property and notify the appropriate security agencies, Sherbini told Al-Masry Al-Youm.
Ministry sources said that security procedures have been ramped up at airports, ports and borders in response to intelligence that dangerous elements were potentially intending to harm public security and incite riots.
Central Security Forces and Special Operations Forces have been widely deployed around Cairo, said the sources, who requested anonymity.
Hassal al-Bardesy, the director of Cairo traffic, said traffic leading to Tahrir Square and Abdel Moneim Riad Square would be rerouted on Friday to prevent bottlenecks.
Edited translation from Al-Masry Al-Youm