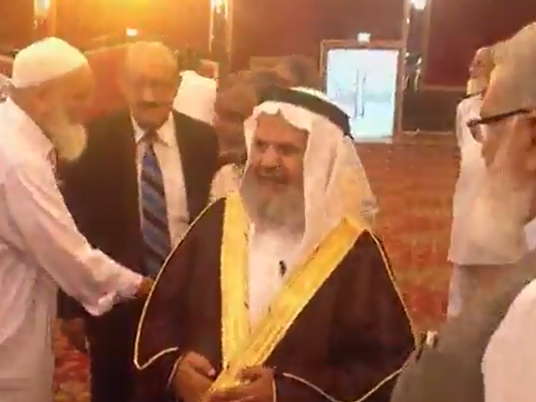 A new alliance called the "Islamic Council" is currently underway, which would include all currents of political Islam, according to sources close to the international organization of the Muslim Brotherhood. The alliance is to open branches in all countries of the world in order to support Islamists' rise to power.
Salafi sources said the idea was welcomed by Egyptian Islamist leaders abroad to support the Islamic project.
The sources added that members of the Legitimate Rights and Reform Authority that was founded by Khairat al-Shater, the deputy guide of the Muslim Brotherhood, ​​contacted the group's Association of Muslim Scholars in Turkey, Qatar and Pakistan, and spoke about the matter with Essam al-Bashir, the leader of the Muslim Brotherhood in Sudan, Nasser al-Omar, a Saudi preacher, and Mohamed Yousry Ibrahim, the secretary general of the association.
The sources pointed out that negotiations with the international organization will be led by Ibrahim, Salafi preacher Radi Sharara, and Osama Rushdie and Samir al-Arqi, leading figures of the Jamaa Islamiya. The organization has asked them to revive the role of the Legitimate Rights and Reform Authority in interaction and interdependence among Egyptian Islamists.
Conferences of those leaders were held in Turkey and Pakistan earlier this week, in addition to contacts with Islamic scholars in Saudi Arabia and Qatar, in which they agreed on plans to support the Islamic project and the rise of Islamists to power, the sources said.
The Islamic Council will also resolve any differences between Islamic governments and Islamists, as happened in Tunisia, or between the Islamic currents themselves, as happened in Syria and Sudan, so as to unite them against the enemies of the Islamic project.
They added that the leaders would put terms for joining the council in a few days, and start working on opening a branch in Egypt to be managed by the Salafis that support the deposed president. They would also form a fund for financial activities and international conferences.
For his part, Yousry Hammad, vice president of the Al-Watan Party, said the party did not assign its leaders abroad to take part in those contacts. "Anyone who did was talking for himself and not the party," he said. "We want calm at home."
Edited translation from Al-Masry Al-Youm