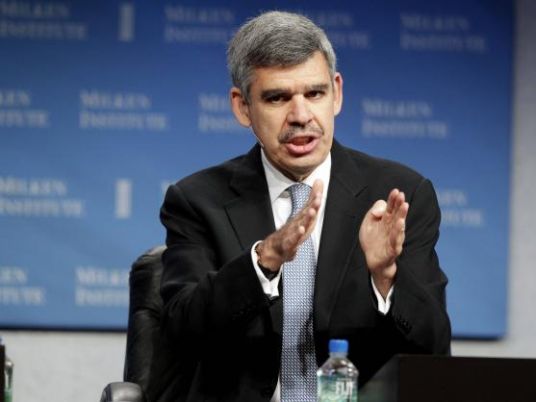 Presidential Economic Adviser Mohamed al-Erian said that he felt optimistic after the economic conference, adding that the challenges President Abdel Fattah al-Sisi faced after his election are still there for him to address.
He also stressed that the private sector is a fundamental pillar of the economy, and that the government has shown the world during the economic conference that Egypt is ready for business.
Erian argued that Sisi's opening speech was inspiring and refuted allegations that Egypt suffers turmoil.
Q: The economic conference was held to say that Egypt is ready to do business. Was this message delivered successfully?
A: By all means, starting with the inspiring opening speech of President Abdel Fattah al-Sisi. The government showed that it is commitment to a brighter economic future for Egypt.
There were three strong signals during the conference. The first was the additional financial assistance from Egypt's closest allies in the region, the second was the response of local and foreign investors, and the third was the political support by world leaders.
Q: How significant are those signals for the international community?
A: They refute the image in the international media about Egypt suffering turmoil like Iraq, Libya, Syria and Yemen. Egypt's economic reform efforts did not get adequate attention in the international media before the conference.
Q: What about the size of the potential investments after the conference?
A: We received US$12 billion in financial aid from Kuwait, Saudi Arabia and United Arab Emirates, and we signed agreements with multinational companies.
Q: How will we benefit from this?
A: It will achieve economic growth, create job opportunities and increase local and foreign investments.
Q: The need to expand privatization and encourage the private sector was discussed in the conference. How will we benefit from this?
A: It will achieve sustainable growth for future generations.
Q: In what way?
A: In a fair and equal distribution of wealth, and in engaging the talent and enthusiasm of the youth.
Q: Who will be responsible for the equal distribution of wealth?
A: The government and the private sector.
Q: Do you think investors will discard Egypt's political risks?
A: All chief executives of international companies talked during the conference about enormous opportunities in Egypt, such as talent, the unique geographical location, the size of the domestic market and regional and global links. All this makes them overcome other risks.
Q: Some claim the conference has sold Egypt to the highest bidder. What do you say to that?
A: Nonsense. The conference was held to increase investments that generate jobs and improve the lives of the Egyptians.
Q: Investment Minister Ashraf Salman is working on reducing the unemployment rate from 13.1 percent to 8.5 percent in the next four years. How can this be achieved?
A: With small and medium enterprises next to huge projects.
Q: Why?
A: Because small and medium enterprises create more jobs.
Q: Why does the investment law not include tax incentives for investors in labor-intensive industries?
A: Ask the government. I say promoting a productive environment should be dynamic in order to achieve high growth like in China.
Q: Was is devised hastily?
A: Parliament should come up with laws suitable for economic development.
Q: Investors complain of routine and complex bureaucratic procedures. How can we overcome this?
A: We should reduce bureaucracy.
Q: How?
A: By facilitating procedures for projects that are transparent and accountable, and that serve all, not just the privileged few.
Q: Investment Minister Salman promised to double foreign investment to $8 billion this fiscal year. Which countries will take the first initiative?
A: Those who understand the enormous potential of Egypt.
Q: Business tycoon Naguib Sawiris that his family will pick up one fifth of the investments in energy. Would you encourage other Egyptian businessmen to do the same?
A: The Egyptian private sector is a fundamental pillar of the economy. It is also as a good signal for foreign investors.
Q: How?
A: Because they see it as more capable of analyzing studies and information.
Q: Do you think Sisi is betting his legitimacy on economic reform and the restoration of security?
A: These are two challenges he has been facing since he was elected.
Q: How can the economy be reformed?
A: By promoting growth, creating jobs, activating the new investment law so as to reduce inefficiencies, protecting investor interests and making sure subsidies go to those who deserve them most.
Also, by focusing on vital economic and social sectors, such as education, health, housing, energy, infrastructure and the information technology.
Finally, by a fair distribution of wealth.
Edited translation from Al-Masry Al-Youm