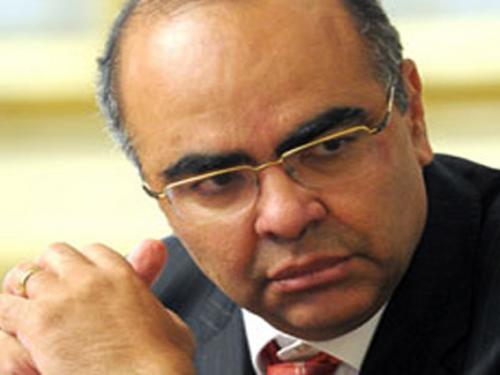 Serving a five-year sentence handed down on him last February, activist Alaa Abdel Fattah, one of the most vocal critics of Egypt's military institution and an outstanding figure of the 2011 revolt against former President Hosni Mubarak, speaks out on the fifth anniversary of the uprising.
Abdel Fattah, 34, is serving his prison term at Tora Prison over charges of assaulting security and rioting during protests against military trials in late 2013 outside the parliament building. He told Al-Masry Al-Youm that he would leave Egypt once he serves his prison term, noting that he does not predict to be pardoned and released soon.
Q: Is there a difference between Alaa Abdel Fattah as a blogger and as a current prisoner of conscience on January 25, 2016?
A: I was a blogger back in 2005, and not in 2011. Before January 25 (2011), nothing preoccupied me except for hope. I had a belief that any single action would be beneficial to the quest for change. The 2011 uprising brought that hope, which I am totally denied at present.
Q: How are you spending January 25 at prison? How different is it from any other day?
A: Every year is different. On January 25, 2014, I was jailed along with my comrades Ahmed Douma, Ahmed Maher and Mohamed Adel. We partied and listened to music. Back then, we still had the energy to share memories with both pride and sarcasm. However, on January 25, 2015, I was separated from my colleagues, which turned me melancholic and nostalgic. As for this year's January 25, I just want it to pass.
My co-inmates now only talk about possible pardons or changes that could get them out of prison. For me, I believe none of that is going to happen. Even when they talk imaginatively about raiding prisons, I fully recognize that the opening of prisons had been a nightmare for inmates, for many ended up either dead or caught by civilian vigilantes.
This year is also different since army took over securing the prison on January 23. After all, days-off usually become hard times for prisoners. Cells are closed the whole day and inmates are denied their walkabout break. Douma once told me "January 25 is Police Day. It is their prison, so it is their feast."
Q: Is your prison time different following your father's death?
A: My father's death was a great ordeal, and I do not think it would have been less shocking had I been outside. Her was the closest person to me and had himself spent a long prison term. I needed him to tell me how to cope with that while keeping my soul alive. Add to it that many of my battles were with the law and courts, seeking to compel the judiciary to admit the truth even if it was biased against it. Such battles my father could skillfully engage in, but after his death, I do not feel I can do it.
Q: You were once quoted as saying that nothing was worth your incarceration. What did you mean?
A: My previous detentions used to be beneficial to our battles in terms of mobilization. Today things are different. After the Rabaa al-Adaweya massacre, it was important to have the Muslim Brotherhood's opponents and non-Islamist factions to condemn the massacre, stand against the authorities that committed it and tell them they were criminals. It is true that those who reciprocated were an ineffective tiny minority who paid dearly, yet, their stance and the price they paid for it will leave an effect in the future when society turns to a new stage when it seeks to reconcile with the past.
I saw a similar situation in South Africa, where a tiny white minority backed an anti-apartheid movement. Yet, and after the apartheid regime collapsed, it was the position of that group that helped Mandela to achieve a democratic transition free of revenge against the white.
My real problem is that I made that stance based on my personal conscience and the circumstances at that time; unaware of the consequences.
What is also different in this stretch is that it is the first time I feel real regret. I regret that in 2013, when my name was lifted from the travel ban, I did not travel abroad.
Q: How do you see your future under the current government?
A: I am currently rethinking everything in my life. That's not due to the situation in Egypt alone, but also for what is going in in the region and the whole world. There is a current wave sweeping through countries that used to represent a source of hope just like South Africa and Brazil. For our own region, there is a fascist wave. For long, I realized that when Arab governments upheld Pan-Arabism slogans, they were actually a reflection of fascism. However, I always had a belief that, for the public, they meant a cultural connection and a common solidarity with the Palestinian cause. Today, I can see how nationalist senses among people have turned into foundations for fascism.
When I get out, I want to travel abroad, away from our region and any other place experiencing ongoing conflicts. I need to think what to do with my life and work.
Edited translation from Al-Masry Al-Youm