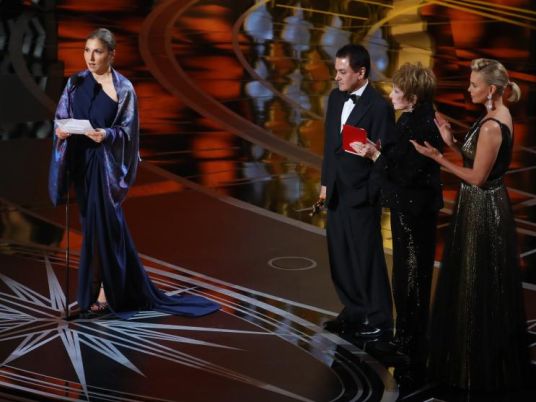 Iran's "The Salesman," a drama about honor and revenge in a modern marriage, won the Oscar on Sunday for best foreign language film.
The movie, directed by Tehran-based Asghar Farhadi, marked Iran's second Oscar victory, coming five years after Farhadi's drama "A Separation" won the nation's first Academy Award.
"The Salesman" was seen as one of the favorites in the foreign language category after winning prizes at the Cannes Film Festival last year, and its win follows the fallout over US President Donald Trump's crackdown on foreign travelers.
Farhadi, and the film's lead actress, Taraneh Alidoosti, both said last month they would boycott the Oscars to protest Trump's ban on travel to the United States from seven majority Muslim nations, including Iran.
The ban was later overturned by US courts but the administration is working on a new executive travel order.
Farhadi chose two Iranian-Americans — a female engineer and a former NASA scientist — to represent him at the Oscars ceremony.
Anousheh Ansari, an engineer who was the first female space tourist, read a statement on behalf of Farhadi.
"My absence is out of respect for the people of my country and those of other six nations whom have been disrespected by the inhumane law that bans entry of immigrants to the US," Ansari said, in reading from Farhadi's statement.
"Dividing the world into the 'us' and 'our enemies' categories creates fear, a deceitful justification for aggression and war."
"The Salesman" tells the story of a quiet married couple whose relationship is pushed to the brink after the wife is attacked while alone in their Tehran apartment, and the husband goes to extreme lengths to seek revenge.
At the same time, the couple is appearing in a local production of Arthur Miller's play "Death of a Salesman," and elements of the work mirror their fraught lives.
(Reporting by Alex Dobuzinskis; Editing by Jill Serjeant and Sandra Maler)