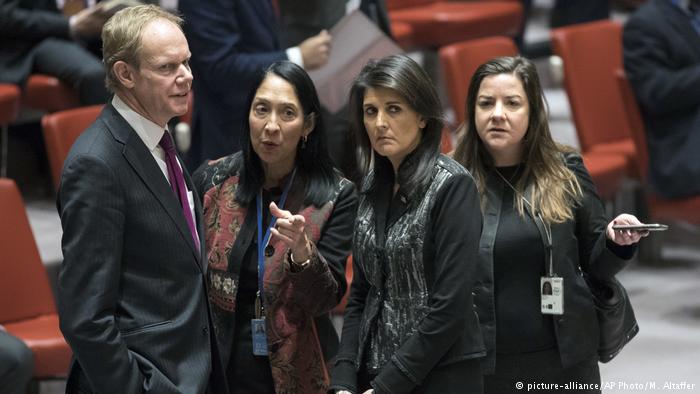 The UN Security Council held an emergency meeting at the request of the US on Friday to discuss the anti-government protests that rocked Iran last week.
The meeting began as a closed-door session but the US was able to ensure a second, open phase of talks thereafter, despite resistance from Russia, France, Bolivia and other members.
The US ambassador to the UN, Nikki Haley, argued that the Iranian protests — first against and later for authorities in Tehran — could escalate into a full-blown conflict, drawing parallels with Syria.
"Freedom and human dignity cannot be separated from peace and security," Haley said. "The Iranian regime is now on notice: the world will be watching what you do."
US President Donald Trump had refrained from calling for violence or disruptive acts in Iran but had expressed "such respect for the people of Iran as they try to take back their corrupt government," also pledging "great support from the United States at the appropriate time."
Iran: protests 'very clearly directed from abroad'
Iran's Ambassador Gholamali Khoshroo told the council that his government had "hard evidence" that the protests were being directed from abroad, also saying that the US had abused its position as a permanent council member by forcing the session.
"It is unfortunate that despite the resistance on the part of some of its members, this council has allowed itself to be abused by the current US administration in holding a meeting on an issue that falls outside the scope of its mandate," Khoshroo said.
Russia and France had similarly argued that it was too soon to discuss the issue at the UN in New York. France's Francois Delattre said that although he was "alarmed" by the acts of violence on the streets of Iran, they did not pose an international threat to peace and security and so were not really a matter for the Security Council.
"We must be wary of any attempt to exploit this crisis for personal ends," Delattre said, after acknowledging the need for the international community to remain vigilant.
Russia's Vassily Nebenzia, meanwhile, said that the US was "abusing the platform of the Security Council" by calling the emergency meeting.
"We obviously regret the loss of life as a result of demonstrations that weren't so peaceful," Nebenzia said. "However, let Iran deal with its own problems."
Nebenzia remarks echoed those of Moscow's Deputy Foreign Minister Sergei Rybakov, who accused the US of "shamelessly" interfering in the in a "situation that is of purely national concern to Iran."
Twenty-one people, most of them demonstrators, have died in protests that began almost a week ago in Iran's second-largest city of Mashhad; hundreds more have been arrested. The protests are the most widespread of their kind in Iran since the unrest that followed 2009's disputed presidential election.