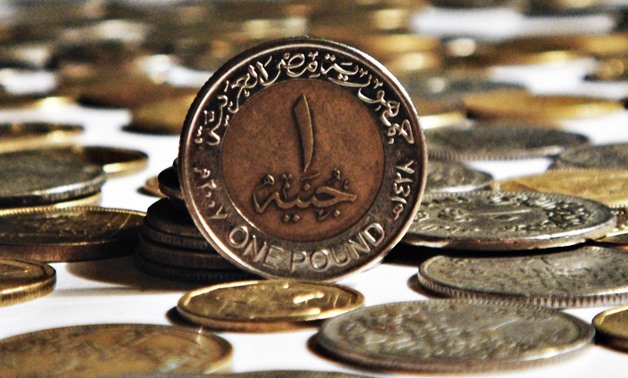 One year after Egypt took the dramatic step of floating its pound, inflation is still taking its toll on the economy, while foreign investors are starting to be lured back to the market after years of turmoil and a crippling shortage of foreign currency.
Egypt's central bank floated the pound currency exactly a year ago, devaluing the currency by 32.3 percent in a move to rebalance currency markets.
The Egyptian pound was pegged at 8.8 to the dollar since March last year, but a shortage of dollars in the economy had put the currency under intense downward pressure at the time, causing the exchange rate to double from its level before the decision, reaching EGP 19 to the dollar, a few days after the flotation.
This rate, however, was almost the same on the parallel market before the flotation.
Throughout the past two months, the dollar has been relatively stable, recording EGP 17.60 for purchase and EGP 17.70 for sale on Thursday.
"The market is adapting to the new regime, and I think this volatility is very good; it's very healthy. It's going to take a bit of time to settle where it should settle, "Egypt's central bank governor, Tarek Amer, said in an interview earlier this year.
AUSTERITY REFORMS
Ditching its currency peg helped Egypt secure a $12 billion three-year loan from the International Monetary Fund to support a reform program under which the government has introduced Value Added Tax, cut electricity subsidies and sharply raised import duties, all in the space of a few months.
With these reforms, the value of the pound sharply dropped while foreign currency rates increased along with the price of imports.
These reforms have had a big impact on ordinary people, as well as importers. The exchange rate hike after the flotation led to high tides of prices, especially imported goods. This reflected on inflation, which soared up to 35 percent in July—a record high on the back of fuel and subsidy cuts that Egypt has embarked on recently.
SOARING INFLATION
Egypt's annual urban consumer price inflation eased slightly in September to 31.6 percent from 31.9 percent in August, according to the official CAPMAS statistics agency.
In a bid to curb inflation, Egypt's central bank raised interest on the pound 7 percent, three times. The interest rate has hence reached its highest record.
"It wasn't just a hard year, it was a deadly one for importers as well as ordinary citizens.  Importers are in debt, and Egyptians' purchasing power cannot sustain the burden with the rise in costs," a banker, who asked to remain anonymous told Egypt Independent.
The IMF insisted that the rate rises and reforms were necessary. Last July, the fund disbursed the second $1.25bn tranche of the $12bn loan.
"Egypt is in a better place than last year," says Chris Jarvis, the IMF mission chief for Egypt.
"I think they have already taken the most difficult steps on the macro- economic level and what remains is to continue [with the reforms]. But it doesn't involve a lot of big adjustments, certainly not over the next few months."
He said the interest rate increases were needed to dampen expectations of inflation which he predicts will fall to between 11 and 13 percent by the middle of 2018 "with continued strong policies".
FOREIGN INVESTMENT RECOVERY
The flotation of the pound, moreover, drove up foreign appetite for domestic debt in investments.
Foreign investment in Egyptian securities rose to $18.8 billion in October, a Finance Ministry official told Reuters on Thursday, compared to $25 million before the decision of the floatation last November which drove up foreign appetite for domestic debt.
As foreign inflows have increased and remittances have picked up, Egyptian banks' foreign exchange reserves have risen by $10 billion since last November, central bank governor Tarek Amer said Tuesday in a conference.
Egypt's foreign reserves increased to $36.143 billion in August from $36.036 in July, surpassing, for first time, pre-January 25 revolution rates which amounted $US36.005 in December 2010 and $U36.143 in January 2011.
The country's foreign exchange reserves have recorded a 92 percent growth since the currency float recording $36.5 billion at the end of September, compared to $19.04 billion in October last year, Amer added.
WILL IT GET BETTER?
However, a banker told Egypt Independent that these "positive indicators offer little to no comfort to Egyptians."
"Businesses import the majority of their materials, consequently leading to the firm's production costs to hike. But, since these costs are not fully passed off to consumers as they are burdened by a rising cost of living… they are left off frustrated and in tied hands," he said.
"But there is no doubt we all notice the renewed interest from foreign firms to invest in Egypt," he added, "how does that help an ordinary Egyptian striving to feed his family, that's the question."
Egypt's President Abdel Fattah al-Sisi acknowledges the tough economic situation many Egyptians face. He says that sacrifices and austerity reforms are needed "so we can take our true place."
"Reform is a package. As long as the government continues implementing policies, the salaries adjust, and investments translate into projects easing the financial burden off Egyptians, things can get better, Ayman Ismail, assistant professor of the Abdul Latif Jameel Endowed Chair of Entrepreneurship, said.