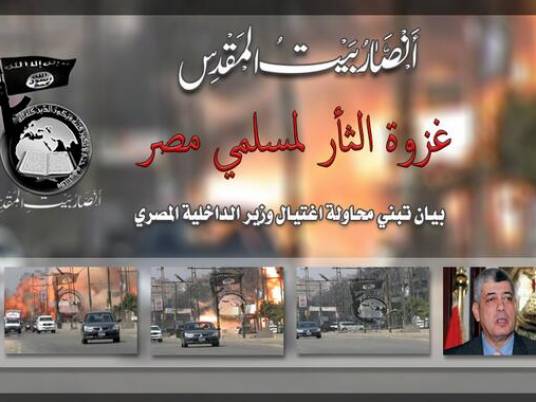 Nabil Naeem, founder of the Islamic Jihad, said Ansar Bayt al-Maqdis is a group divided into two, one in Gaza and the other Egyptian branch in Sinai. He claimed that they had been funded by the Muslim Brotherhood recently.
Naaem said that the Islamic Jihad is currently being funded by the Muslim Brotherhood in conformance with a deal with Khairat al-Shater, the deputy supreme guide of the Brotherhood. The deal had been mediated by Mohamed al-Zawahiri, the brother of al-Qaeda's leader. Naeem said that Hamas is also part of the deal, according to an appeasement deal sponsored by ousted President Mohamed Morsy in return for cooperation from the Ansar Bayt al-Maqdis.
In statements to Al-Masry Al-Youm, Naeem added that a series of assassinations of public figures and bombings of institutions are expected over the coming period.
Ansar Bayt al-Maqdis were late to claim responsibility for the attack because they allegedly needed time to escape from the scene and withdraw from Egypt.
Naeem also said that radical groups would abandon their old positions and work to serve the Brotherhood. Their operation will be similar to the 1990s, but the Interior Ministry, he added, will be there to face them. These radical groups are concentrated in the oases, North and South Sinai and remote border governorates, but they moved to Sinai under Morsy's rule to serve the Brotherhood project.
Naeem added that Ansar Bayt al-Maqdis are well-trained to carry out assassinations, but the Egyptian security forces are capable of stopping their financing, he said.
Naeem accused Shater of financing terrorist groups in Sinai to carry out terrorist operations against Egyptians and added that there was a deal between these groups and Shater to empower the Brotherhood to remain in power as long as possible.
"Jihadi groups in Sinai have origins in Gaza, including Ansar Bayt al-Maqdis. Groups from Egypt joined them after the revolution, particularly under the rule of Morsy because he gave them political cover," he said.
"Right after the failed assassination attempt on the life of the Interior Minister, we accused jihadi groups and Hamas because they use the same methods and ousted President Mohamed Morsy had released 130 jihadis, a large number of whom were implicated in the assassination attempt," he said.
"These groups, however, will not be able to create a scenario similar to the one in Iraq, since the issue for them has nothing to do with religion or legitimacy, but rather about money," he said.
Edited translation from Al-Masry Al-Youm