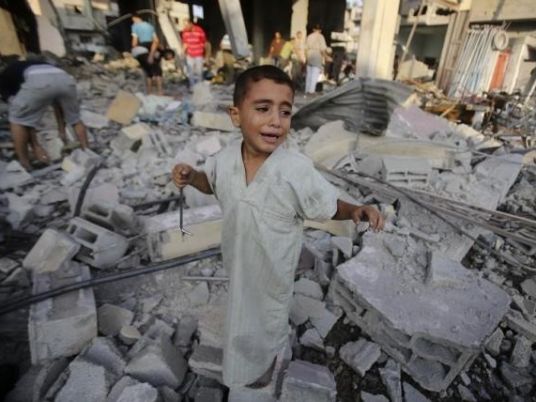 Israel and the Palestinians promised on Monday to investigate alleged war crimes committed by their forces during the 2014 Gaza war, amid growing calls for an end to impunity on both sides.
During an often virulent three-hour debate at the UN Human Rights Council, boycotted by Israel, the president of the Geneva forum rebuked envoys of Saudi Arabia and Venezuela for referring to Israel as a "racist regime" and its "genocidal aggression".
The council examined a report issued by UN investigators last week saying Israel and Palestinian militant groups committed grave abuses of international humanitarian law during the Gaza conflict that may amount to war crimes.
"This report will be another source of information for our internal investigation," Eviatar Manor, Israel's ambassador, told reporters inside the U.N building in Geneva as hundreds of pro-Israeli supporters demonstrated outside.
"A substantial number of cases have been reviewed, investigated and closed. There are about 100 cases which are still open. Alleged war crimes are very, very serious crimes."
Civilian state
Investigations had to be serious and comprehensive "before indictments are being prepared so that the indictments will also carry with them weight and assure prosecution", Manor said.
In a 50-day war, more than 2,100 Palestinians were killed, mostly civilians. Israel put the number of its dead at 67 soldiers and six civilians. Israeli air strikes and shelling hammered the densely populated Gaza Strip, dominated by the Islamist Hamas movement, causing widespread destruction of homes and schools. Hamas and other militant groups launched thousands of rockets and mortar bombs out of the enclave into Israel.
Israel's military said this month the killing of four Palestinian boys in an air strike on a Gaza beach was a case of mistaken identity that did not warrant criminal charges.
Mary McGowan Davis, chair of the UN commission on the inquiry, told the forum Israel's Military Advocate General "incorrectly applied international humanitarian law by reversing the presumption of civilian status in case of doubt.
"This example does not augur well for the investigative process," she said.
The Palestinian Authority last week submitted its first evidence of alleged Israeli war crimes to the International Criminal Court, trying to speed up an ICC inquiry into abuses.
Palestinian Ambassador Ibrahim Khraishi told the council: "It is important to operate universal jurisdiction as long as Israel continues this pattern.
The Palestinian Authority was discussing setting up a committee to probe allegations of violations by Gaza militants, in line with the UN recommendations, he said. "This would show we are completely willing to uphold our legal commitments."