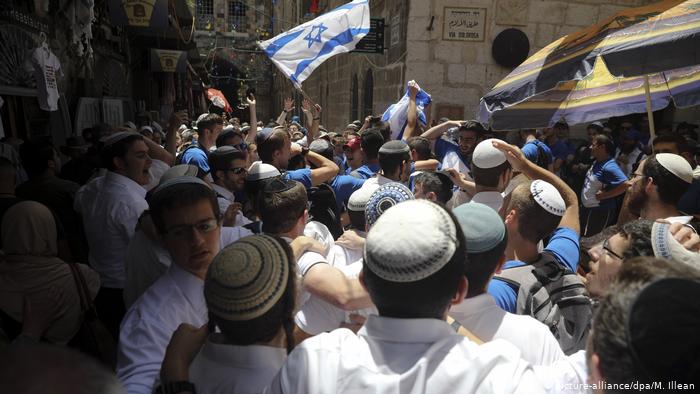 Tens of thousands of Israelis took to the streets on Sunday to celebrate the anniversary of the country's capture of east Jerusalem in 1967.
Thousands of nationalists waved flags as they marched into the Old City's Muslim Quarter to mark the occasion known as Jerusalem Day.
Read more: Islamic bloc supports Palestinians
A total of 3,000 officers were deployed along the route, which is controversial because attendees march through the heart of Palestinian east Jerusalem on their way to the Western Wall, one of the holiest Jewish sites in the city.
Tensions were particularly high this year due to the coinciding of Jerusalem Day with the Muslim holy month of Ramadan, which is celebrated at a different time each year.
Read more: Is Israel ready for fundamental political change?
Earlier in the day, authorities said security forces clashed with Muslims as they congregated at the holy site known as the Noble Sanctuary by Muslims and the Temple Mount by Jews. Palestinians hurled stones and chairs at security forces, according to police spokesman Micky Rosenfeld.
Muslim worshippers at the Al-Aqsa Mosque, which is located on the site, were incensed after some 1,200 Israeli nationalists visited the mosque. Al-Aqsa Director Omar al-Kiswani accused Israel of breaking an agreement that such visits would be banned during Ramadan.
Waqf, a Muslim group that oversees the mosque, said seven people were arrested and 45 were wounded in the clashes.
Israel seized east Jerusalem from neighboring Jordan in 1967 following a short war in the region. It later annexed east Jerusalem, a move not recognized by most countries.
Last year, US President Donald Trump enraged Palestinians by declaring Jerusalem Israel's capital city.
jsi/amp (AFP, AP)