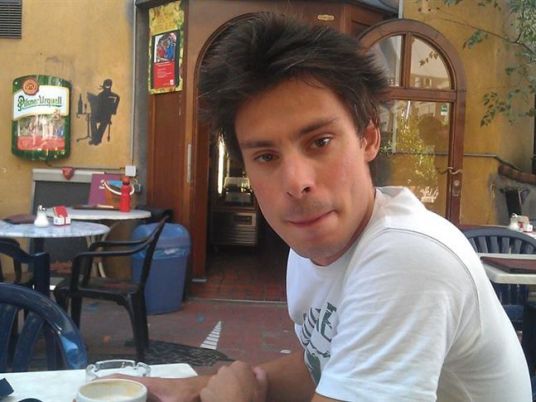 Italian Foreign Minister Angelino Alfano reiterated on Wednesday his country's commitment to seeking the truth about what happened to Italian researcher Giulio Regeni, whose body was found on the Cairo-Alexandria road in early February 2016.
"The same sadness and pain continue after a year. We will accept nothing less than the truth," Alfano wrote on Twitter.
On the anniversary of Regeni's disappearance, Italian Prime Minister Paolo Gentiloni expressed his solidarity with the victim's family, and stressed the Italian government's commitment to assisting the judiciary in reaching the truth.
In Italy, hundreds commemorated the anniversary on Wednesday in demonstrations under the slogan "365 days without Regeni".
Demonstrators organized a rally at the University of Sapienza in Rome where they held banners with Regeni's pictures and the number of days since his death in response to a call by Amnesty International in Italy and La Repubblica newspaper.
In a statement, Regeni's family thanked the organizers of marches that commemorated the incident.
Italian news agency ANSA reported that Regeni's family "saw and still sees the evils of the whole world in the torture and murder of their son". The family added in the statement: "evil reveals itself slowly thanks to the fruitful hard work by those in charge of the investigation, and the support of the Italian people and the world to uncover the truth".
British newspaper The Guardian said failures in the efforts to find Regeni's killers had strained relations between Cairo and Rome, which cast a shadow over the Libyan crisis. The paper argued that the case made it difficult for Rome to cooperate with Cairo to ensure stability in Libya, which represents one of Italy's most important foreign policy goals.
Head of Maspero News Sector Khaled Mehana said the sector broadcast a video it received two days ago from the top prosecutor's office about Regeni.
Mehana added in a statement to Al-Masry Al-Youm that the video was 46 minutes long, but he discussed shortening the duration of the video with the top prosecutor who agreed to displaying three minutes on TV.
State TV displayed a video on Sunday evening showing Regeni negotiating with Mohamed Abdallah, a representative for the street vendors union, for information. Abdallah expressed his need for money as his wife has cancer and requires treatment.
Edited translation from Al-Masry Al-Youm