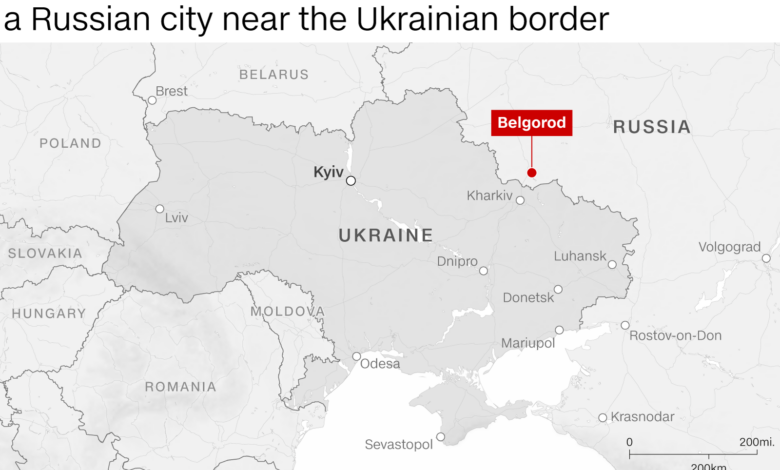 The conflict following Russia's invasion of Ukraine has now entered its sixth week. Here are the latest developments:
Blaze at a fuel depot: A huge fire has broken out at a fuel depot in Belgorod, a Russian city near the Ukrainian border, and Russia says an air strike from Ukrainian helicopters is to blame. CNN is so far unable to verify this claim and the Ukrainian defense ministry told CNN it has no information about the incident. Kremlin spokesperson Dmitry Peskov said Friday that the purported strike could have a potential negative impact on negotiations between Kyiv and Moscow. Talks between the two nations are due to resume Friday.
Mariupol evacuations: Around 2,000 civilians are on buses heading from the coastal city of Berdyansk to the Ukrainian government-held city of Zaporizhzhia, carrying civilians evacuated from the besieged city of Mariupol. CNN is at the hub in Zaporizhzhia where the people will be processed. More than 100,000 civilians remain trapped in Mariupol, according to Ukrainian authorities.
Death toll: At least 153 children have been killed since the Russian invasion began five week ago and 245 children have been injured, Ukrainian officials said Friday. Bombing and shelling have also damaged 859 educational institutions, including 83 that have been destroyed, they said.
EU-China Summit: Chinese leader Xi Jinping and Premier Li Keqiang will meet with European Union leaders in an online summit on Friday, and the war in Ukraine will be a "main focus" of the summit, the European Council said. China continues to face pressure to condemn the Russian invasion.
Heavy shelling continues: Ukrainian officials have continued to report heavy shelling in eastern Ukraine on Friday, particularly in the Luhansk region of the Donbas amid an apparent shift by Russia to redirect military efforts to the region. NATO's chief has warned Russian forces are repositioning rather than withdrawing, while Ukrainian and US officials say say Russians may be regrouping in Belarus.