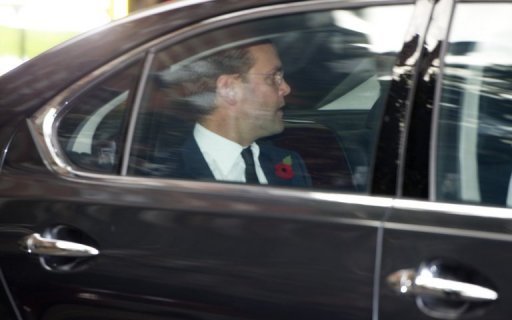 LONDON — James Murdoch resigned as chairman of pay-TV giant BSkyB Tuesday, saying he did not want to become a "lightning rod" for the hacking scandal at his father Rupert's media empire.
The post was the last major role held in Britain by James Murdoch, who has faced growing pressure over what he knew about the illegal accessing of voicemails at the now-closed News of the World.
The satellite broadcaster, which is 39 percent owned by Rupert Murdoch's US-based News Corp, announced that James would be replaced by deputy chairman Nicholas Ferguson.
He will stay on as a non-executive director of BSkyB, the company added.
"I am aware that my role as chairman could become a lightning rod for BSkyB and I believe that my resignation will help to ensure that there is no false conflation with events at a separate organisation," James Murdoch said in his resignation letter to the board.
"As attention continues to be paid to past events at News International, I am determined that the interests of BSkyB should not be undermined by matters outside the scope of this company," he said.
It is the second high-profile position relinquished by Rupert Murdoch's youngest son and one-time heir apparent in the past two months as the family struggles to contain the damage from the phone-hacking row.
The 39-year-old resigned as executive chairman of News International, the News Corp unit which published the News of the World, on 29 February.
He remains deputy chief operating officer of News Corp, with a focus on television operations.
But broadcasting regulator Ofcom reportedly stepped up an investigation last month into whether James Murdoch was a "fit and proper" person to sit on the BSkyB board.
James Murdoch has strongly denied knowing about the widespread hacking of phones by the tabloid, which caused a major scandal last year.
There was public revulsion in Britain when it emerged that the News of the World had listened to the voicemails of Milly Dowler, a murdered English schoolgirl, as well as dozens of victims of crime, celebrities and politicians.
News Corp. responded by shutting down the 168-year-old News of the World, and it has since paid out millions of pounds in damages to victims.
As the scandal spiralled, the US-based company was also forced to withdraw a $12 billion offer for the 61 percent of BSkyB it does not already own.
After the news of James Murdoch's resignation broke, shares in BSkyB were at 675.5 pence, down 0.81 percent on Monday's closing price.
News Corp had bid 700 pence a share in 2011, although this was rejected by the company as too low.
Ferguson, the new chairman of BSkyB, said that the board's "support for James and belief in his integrity remain strong".
James Murdoch appeared twice before a parliamentary committee last year as part of its investigations into phone hacking, and both times he denied knowing the practice went beyond a rogue reporter at the News of the World.
In a statement to the media committee on 14 March he also denied that he had misled parliament but apologised for failing to uncover wrongdoing earlier.
"Whilst I accept my share of responsibility for not uncovering wrongdoing sooner, I did not mislead parliament and the evidence does not support any other conclusion," he wrote.
The committee is expected to publish its report into the hacking scandal at the end of April, a spokeswoman said.
Committee chairman John Whittingdale said that Murdoch's role at BSkyB was always going to "provoke controversy," but refused to reveal whether the report would accuse him of misleading parliament, The Times reported Wednesday.
Labour MP Chris Bryant, a victim of phone hacking by the News of the World, said on Twitter: "So James Murdoch runs off with his tail between his legs as the select committee finalises its report."
Both Rupert and James Murdoch are expected to be called to testify later this year before a separate judge-led inquiry in Britain into the ethics of the press, which is scheduled to hear from newspaper proprietors from 23 April.