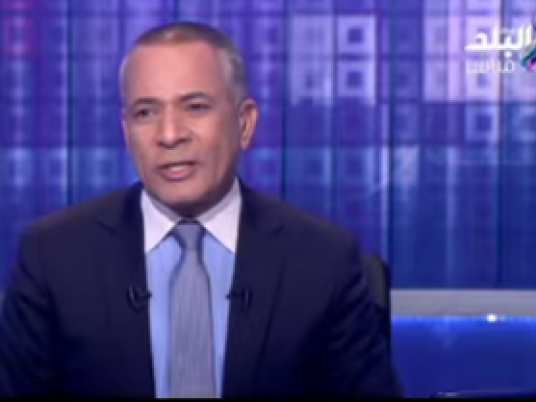 Media host Ahmed Moussa has warned that activists planning protests on the fifth anniversary of the 2011 uprising on January 25 will end up either in jail or dead.
"Anybody going out (for protests) on the 25th will be jailed," said the controversial media host known for his close connections with security authorities during his show on satellite TV Sada el-Balad late Sunday.
"Whoever intends to sabotage shall be beaten down and jailed, and if he or she is armed, will get killed," Moussa warned.
Security authorities have reportedly been bracing for potential protests on the anniversary of the uprising that toppled former president Hosni Mubarak. The annual event, which coincides with Police Day celebrations, has become a favorite date for anti-government demonstrators who have been voicing their political demands over the past few years. Several individuals who have been holding social networking events for the protests have reportedly been arrested over the past weeks.
President Abdel Fattah al-Sisi himself advised activists not to protest during a speech in December. "Why am I hearing calls for another revolution? Why do you want to ruin (Egypt)? I came by your will and your choice and not despite it," Sisi said in a speech marking the Prophet Muhammad's birthday.
"Anybody eager to go out to celebrate Police Day is welcome," Moussa said on his show, saying that incidents of violence, including "explosions" and "fires," will be likely during that day.
Edited translation from Al-Masry Al-Youm