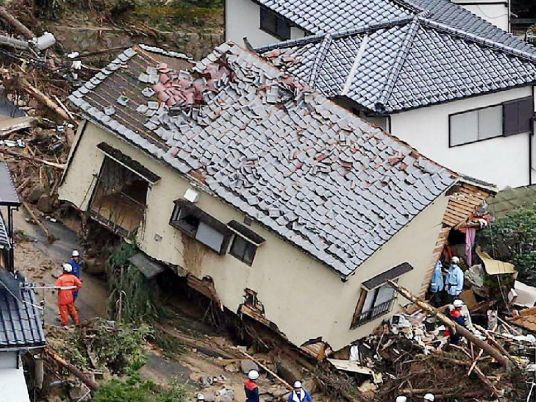 Japan's prospects have been improving on the back of strong exports, with investments linked to the Tokyo 2020 Olympics also giving growth a boost. The labour market is tight and business confidence is high
Japan has posted its longest economic expansion in over a decade, government data showed Thursday, marking a win for Tokyo's growth bid even though its battle to conquer deflation is still far from won.
The world's number three economy grew 0.5 percent in the first quarter — or an annualized 2.2 percent.
That was the fifth straight rise and up from a 0.3 percent expansion in the last quarter of 2016.
Japan's prospects have been improving on the back of strong exports, with investments linked to the Tokyo 2020 Olympics also giving the economy a shot in the arm. The labor market is tight and business confidence is strong with firms investing more.
But consumer spending remains tepid and efforts to lift inflation have fallen flat despite years of aggressive monetary easing by Japan's central bank.
Private consumption picked up a modest 0.4 percent in the first quarter from zero growth in the previous three months. Individual spending accounts for more than a half of Japan's GDP.
"I can't give the 'all clear' yet," said Takeshi Minami, chief economist at Norinchukin Research Institute in Tokyo.
"Public works spending is helping prop up growth this year but it's tough to imagine that private spending is going to be a driving force for the economy."
Longest in a Decade

The latest reading nonetheless means Japan's economy has had its longest string of gains since 2006, during the tenure of popular former prime minister Junichiro Koizumi.
The figures are good news for the current prime minister Shinzo Abe — whose brief and underwhelming first term as Japan's premier came directly after Koizumi.
A string of short-term leaders followed before Abe swept back to power in late 2012 on a pledge to reignite Japan's once-booming economy with a plan dubbed Abenomics.
The scheme — a mix of huge monetary easing, government spending and reforms to the economy — stoked a stock market rally and fattened corporate profits. But there has been growing criticism about the plan's muted impact on the wider economy.
Still, the Bank of Japan and International Monetary Fund both recently lifted their projections for the country's growth rate.
A weak yen has helped prop up the economy as it makes Japanese exports more competitive and inflates profits when firms repatriate their foreign-earned income. An improving global outlook with strong demand for Japanese smartphone parts, memory chips and construction machinery has also been a tailwind, analysts said.
"With growing external demand set to continue, we believe there will be the need for many companies to replace machinery and equipment," Katsunori Kitakura, lead strategist at asset manager Sumitomo Mitsui Trust Group, said before Thursday's GDP figures were released.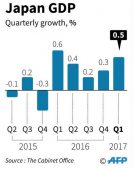 Cash-rich firms have been stingy with pay hikes though, which hurts spending and acts like an anchor on the economy. In March, some of Japan's top companies, including Toyota and Hitachi, announced their lowest wage rises in years. "Wages are still stagnating, despite sharp falls in unemployment," research house Capital Economics said in a commentary.
"This seems to be because aggressive monetary easing has failed to lift expectations of future price rises among households and firms. "Unless this changes, the chances of inflation settling at two percent or higher are slim," it added.
The Bank of Japan (BoJ), aiming to achieve two-percent inflation as a key part of Tokyo's growth bid, now expects to reach that goal by 2019 — four years later than planned.
Despite healthy profits, many Japanese firms remain cautious about the world economy, partly due to worries that US President Donald Trump's protectionist leanings could hurt exports.
Japan has been struggling to defeat years of deflation and slow growth that followed the collapse of an equity and property market bubble in the early nineties.
Falling prices can discourage spending by consumers, who might postpone purchases until prices drop more or look to save money instead. That puts pressure on businesses, creating a cycle in which firms then cut back on expanding production, hiring new workers or boosting wages.
Reporting by Behrouz Mehri; Agence France Presse