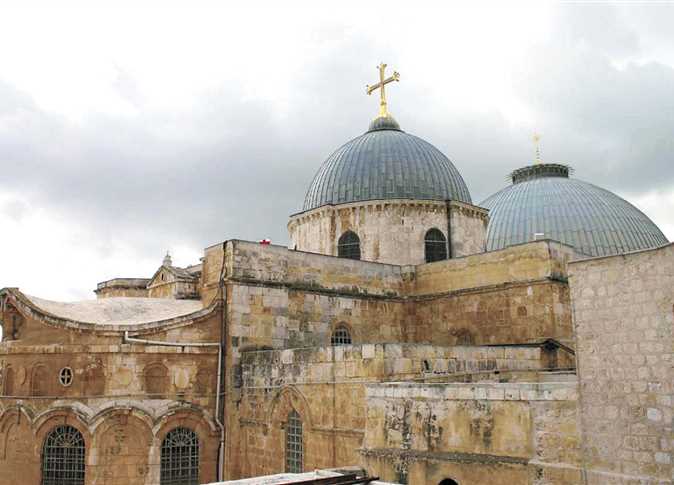 Greek Orthodox Patriarch of Jerusalem Theophilos III and Armenian Orthodox Patriarch of Jerusalem Nourhan Manougian offered to mediate between the Egyptian and Ethiopian churches to settle the issue of Deir Es-Sultan Coptic Orthodox Monastery in Jerusalem, an Egyptian Coptic Orthodox official said on Saturday.
A delegation from the Coptic Orthodox Church is due to arrive in Cairo on Sunday after a four-day visit to Jerusalem commissioned by Coptic Pope Tawadros II, Pope of the Church of Alexandria and Patriarch of the See of St. Mark.
The delegation, headed by Anba Daniel, bishop of Maadi and secretary-general of the Coptic Orthodox Holy Synod, met with Bishop Antonious, bishop of the Metropolitan of Jerusalem and the Gulf countries, to show support for him and the right of the Coptic Orthodox Church over Deir Es-Sultan Coptic Orthodox Monastery in Jerusalem.
In statements to Al-Masry Al-Youm on Saturday, Anba Daniel said that they met during the visit with the Greek Orthodox and Armenian Orthodox patriarchs, who offered to mediate between the two churches to solve the issue in a friendly manner.
The delegation also met with Egypt's ambassador to Israel, who was very cooperative and stressed the full coordination of the Egyptian Foreign Ministry with the Coptic Church for its right to the monastery, which cannot be debated.
Anba Daniel suggested that the delegation may visit Ethiopia to hold talks on the issue. "Despite the problem of the monastery, there are church relations at the highest level between the Ethiopian and Coptic churches," he said.
According to the Coptic Church, the history of the monastery dates back to the reign of Sultan Abd al-Malik ibn Marwan (684-705 AD), who granted it to the Copts, who named it after him as Deir Es-Sultan Monastery. The Coptic Orthodox Church's ownership of the monastery was confirmed during the reign of Sultan Salah al-Din al-Ayyubi in the 12th century.
The Coptic Church says that Abyssinian people resorted to the Coptic Church in the last half of the 17th century as a temporary shelter until they solved their problems and returned to their own churches, which were acquired in 1654 by the Greek and Armenian churches because of the inability of the Ethiopian Church to pay taxes. The Coptic Church temporarily hosted the Abyssinian monks as guests in some rooms of the monastery.
On April 25, 1970, during the Easter Mass in the Church of the Resurrection, the Israeli government sent military forces to enable the Ethiopian monks from the monastery to change the locks and take control of the monastery. When Coptic monks learned of this, they rushed to the monastery but the Israeli forces prevented them from entering.
The Bishop of the Copts filed an appeal before the Israeli Supreme Court, which unanimously approved the restoration of the monastery to the Coptic Church on March 16, 1971, but the Israeli government still refuses to implement the Supreme Court ruling to this day.
Edited translation from Al-Masry Al-Youm