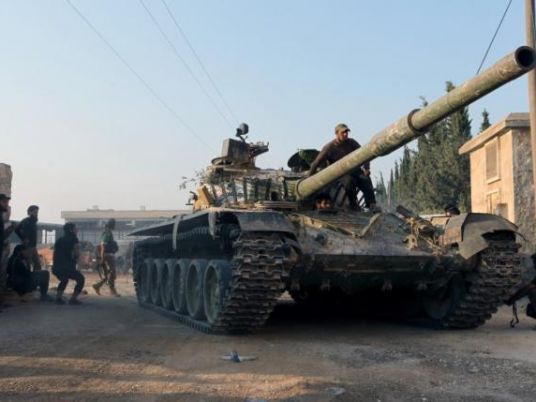 Syrian insurgents who broke the siege of rebel-held eastern Aleppo on Saturday in a significant territorial gain came under intense air attack from pro-government forces on Sunday trying to repel the advance which also cut government-held Aleppo's main supply route.
Rebels have taken most of a large government military complex southwest of Aleppo city in a major offensive begun on Friday to break a month-long siege and are now attacking further into government held territory.
The surprise advance in Ramousah allowed fighters from insurgent areas in western Syria to break through a strip of government-controlled territory on Saturday and connect with fighters in the encircled sector of eastern Aleppo.
But fierce fighting and continuous Russian and Syrian air strikes in and around the Ramousah area mean no safe passage for besieged east Aleppo residents has been established, activists and the Syrian Observatory for Human Rights said.
Fighters from a coalition of Islamist rebel groups called "Jaish al Fateh" announced the start of a new phase to liberate the whole of Aleppo, saying it pledged to increased the numbers of fighters for the battle it said will only end by hoisting their flag on the ancient Aleppo citadel in government hands.
Jets believed to be Russian intensified their bombing of rebel-held Aleppo countryside and also hit opposition held Idlib city in north western Syria, rebels said.
They released video footage that showed huge flames of fire it said was caused by white phosphorus bombs dropped on the city.
Syrian President Bashar al-Assad wants to take full control of Aleppo, pre-war Syria's most populous city, which has been divided between rebel and government-held areas.
Assad's government forces are supported in Syria by Russian air power, Iranian militias and fighters from Lebanon's Hezbollah group who have sent reinforcements to shore up the army .
Rebel gains this weekend could change the balance of power in Aleppo, after Assad said a siege by government and allied forces on rebel-held east Aleppo in early July was a prelude to re-taking the city. The loss of Aleppo would be a crushing blow for rebels.
"We have now seized full control of the Ramousah area…We are in our trenches but there are insane air strikes of unprecedented ferociousness. The regime is using cluster and vacuum bombs," said Abu al Hasanien, a senior commander in Fateh Halab, the coalition of moderate rebel groups inside the city.
Pro-Syrian government news channels have mostly played down the rebel gains and say Syrian army efforts have caused rebels to withdraw from some recently-gained areas.
But Lebanese pro-Syrian government news channel al Mayadeen said late on Saturday the Syrian army had "withdrawn from a number of positions southwest of Aleppo and repositioned itself in new defensive lines".
The Syrian military was not immediately available for comment.
As the insurgents took over parts of the government's Ramousah military complex, which contains a number of military colleges, they broadcast images of the weaponry and ammunition they were taking possession of.
Jabhat Fatah al-Sham, formerly the al Qaeda-affiliated Nusra Front, posted pictures of rows of armored vehicles, munitions, howitzers, rockets and trucks.
The rebel front line is now pushing northwest into western held Aleppo on the edges of the Hamdaniya neighborhood and a housing estate called the 3,000 project, rebels and the Observatory said.
North of Hamdaniya in the direction of the rebels' push is another large government military complex, the Assad military engineering academy.
The opposition Syrian National Coalition (SNC) congratulated rebels on making "spectacular gains (which send) a clear message to the Assad regime, Iran and Russia that they will not be able to defeat the Syrian people or dictate the terms of a settlement."
Sieges
Fears are growing in government-held western Aleppo that it might become besieged by rebels, as east Aleppo has been by government forces, because the main route south to Damascus for goods transport, the Ramousah road, has been severed.
News of the rebel advance caused food prices to rise by as much as four times in western Aleppo, the Observatory said.
Following the cutting of the main Ramousah road, Observatory director Rami Abdurrahman told Reuters military vehicles can still get in an out of west Aleppo through remaining exit roads to the north, but these are not safe enough for civilians.
In eastern Aleppo, despite some scenes of celebration as fighters broke the siege yesterday, the lack of a safe route out means conditions for residents remain unchanged.
Three vans of vegetables crossed into east Aleppo, Abdurrahman said, but this was a symbolic gesture and the corridor is too dangerous for civilians or significant supplies to pass.
The United Nations and humanitarian agencies have said conditions in isolated rebel-held east Aleppo have become very concerning.
"Most recently I'm hearing that the markets are closed and it's next to impossible to purchase food. The UN estimates that collectively all aid supplies in east Aleppo will only last about two more weeks," Christy Delafield, senior communications officer for Mercy Corps, which runs the largest non-governmental aid operation inside Syria, told Reuters.
The multi-sided civil war in Syria, which has been raging since 2011, has drawn in regional and global powers, caused the world's worst humanitarian emergency and attracted recruits to Islamist militancy from around the world.