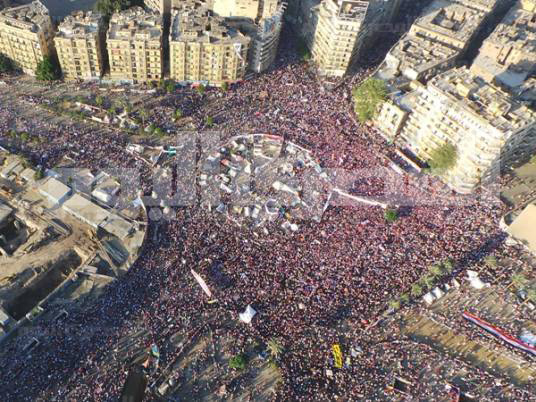 Several jihadist movements like 'Unknown against coup' and 'Muslim Brotherhood youth' have expressed intentions to stage sit-in at Tahrir Square on occasion of Sinai Liberation Day on 25 April.
In a joint statement on Monday, the movements called on 'supporters of legitimacy' to 'liberate the country from tyrants' calling on people and revolutionary groups to join them on the first day of the second uprising.
"On the anniversary of Sinai's liberation," the statement said, "we must stage a sit-in in Tahrir Square, returning back to the cradle of the revolution, and prepare ourselves to stage sit-in, responding to any aggression by the Interior Ministry."
The statement added they will raise the slogan 'Islamist Egypt' and that they will not accept anything other than the downfall of the regime. It also threatened retaliation against police.
Mohamed Abu Samra,secretary general of the Islamist Party, the political arm of the Egyptian Islamic Jihad, said he will be on top of participants. "Calls for staging sit-in at Tahrir Square was first made by jihadist movements, as we consider it's our right to express our views and demands at Tahrir Square," Abu Samra said.
He added that no law could prevent them from entering Tahrir Square, saying that their demands include retaliation, reinstatement of legitimacy and downfall of military rule.
Abu Samra also indicated that their choice of Sinai Liberation Day has a great significance as it was liberated from the Jews,"thus, we want to liberate Egypt from the military occupation and that it returns as a civil country with civil government."
Ahmed Yassin, one of the Muslim Brotherhood members, said they continue staging protests across the country to express people's anger.
Diaa al-Sawy, spokesperson of Students Against the Coup movement said there will be escalation during the protests, adding that the demonstrations will be the spark that will ignite the second revolutionary wave across Egypt.
Edited translation from Al-Masry Al-Youm