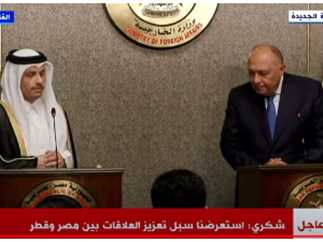 Egyptian Foreign Minister Sameh Shoukry announced on Monday the formation of an Egyptian-Qatari joint committee to discuss ways to strengthen relations between the two countries in a variety of fields.
This came during a joint press conference held by Shoukry on Monday with Sheikh Mohammed Abdulrahman Al Thani, Deputy Prime Minister and Minister of Foreign Affairs of the State of Qatar.
Shoukry welcomed Al Thani, who is on his second visit to Cairo.
He also visited Doha as part of the return of relations between the two countries.
Shoukry explained that the talks discussed bilateral relations and how to activate them and work to find opportunities for cooperation in all fields, "all of which will be activated within the framework of the joint committee that we agreed to form."
"All areas are open so that we can move forward, face common challenges, and work to advance joint Arab action and achieve the aspirations of our peoples," Shoukry said.