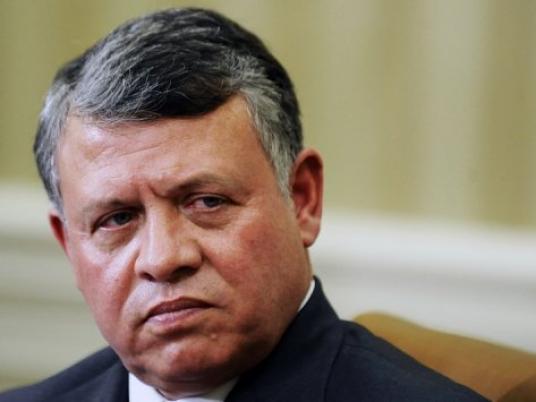 Jordan's king visited the West Bank on Thursday in a show of support for Palestinians stung by Israel's decision to expand settlements after their successful bid for de facto UN recognition of statehood.
King Abdullah, whose country is at peace with Israel and an ally of the United States, made no immediate comment after flying by helicopter to the city of Ramallah for talks with Western-backed Palestinian President Mahmoud Abbas.
Israel and the United States opposed the UN General Assembly's upgrading of the Palestinians' status to "non-member state," saying Abbas should instead resume peace talks that collapsed in 2010 over Israeli settlement-building.
King Abdullah's rare visit to the West Bank, the first by an Arab leader to the territory since the Palestinian resolution was approved a week ago, coincided with strong international criticism of Israeli plans to construct some 3,000 settler homes in the strategic E1 corridor near Jerusalem.
Palestinian leaders have said they may seek a resolution condemning the move at the UN Security Council, where Israel's main ally, the United States, has veto power.
"The world has rejected settlements as unconstructive and illegal and there have been condemnations from numerous countries to this decision," Jordanian Foreign Minister Nasser Joudeh told reporters in Ramallah.
"Red line"
Abbas has called the E1 project, which Israel says is still in preliminary planning stages, an uncrossable "red line."
Palestinians fear that Israeli housing in the area could divide the West Bank and make the creation of a contiguous state impossible, concerns shared by some of Israel's closest allies.
Netanyahu, rejecting US and European calls to reverse course, has said Israel must defend its "vital interests" in a part of the West Bank that his pro-settler government would seek to hold on to in any future land-for-peace deal.
"All (past Israeli) governments talked about the possibility of building tunnels, bridges, roads there to facilitate Palestinian movement," Netanyahu, referring to the E1 area, said in an interview published on Thursday in the German daily Die Welt.
"So to say that this will jeopardize the possibility of a Palestinian state is neither true nor responsible. In any case what we've advanced so far is only planning, and we will have to see," said Netanyahu, who held talks on Thursday in Berlin with German Chancellor Angela Merkel.
Netanyahu appeared to hold out the prospect that actual construction, which his housing minister has said is at least a year away, may not get off the ground.
Election
Some Israeli analysts have speculated the announcement of the project is no more than a bid to solidify Netanyahu's right-wing support in the run-up to a 22 January parliamentary election.
"We shall act further based on what the Palestinians do. If they don't act unilaterally, then we won't have any purpose to do so either," said Netanyahu, whose right-wing Likud party is favored to win the ballot.
Faced with a possible US veto in the Security Council, Palestinians may pursue a non-binding statement by the UN's top body, which diplomats said could prove less divisive and objectionable to the Americans.
Members of the US Congress have proposed restricting hundreds of millions of dollars in US funding to the Palestinians and UN agencies recognizing statehood, and closing the Palestinians' representative office in Washington.
The Palestinians have dispatched their UN envoy Riyad Mansour to oil-rich Qatar, which has pledged to cover their bills while Israel withholds $200 million in tax revenues the West Bank government needs to keep running.
After the Palestinians won the vote on UN recognition, Israel announced it would hold back duties it collects on behalf of the Palestinians. It said the money would be used to cover their debts to Israeli companies.
An Arab League meeting set for the weekend in the Qatari capital is expected to weigh the consequences of further diplomatic moves.