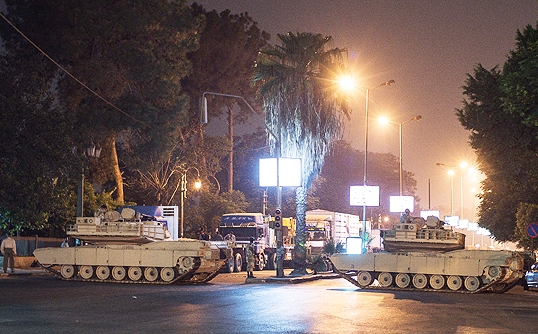 Hamid al-Barbary, director of the Al-Gomhouria office in Beheira who was accompanying the journalist killed on Monday, has said that Tamer Abdel Raouf, director of the Al-Ahram office in the governorate, had abided by the army soldiers' instructions to drive away and did not storm the army checkpoint during the curfew as reported in the media, noting that Raouf was shot from behind.
He told
Aswat Masreya
on Tuesday that Abdel Rauf was driving on a side road off the Cairo – Alexandria Delta Highway when personnel in army uniform ordered him to return to where he came from.
"He followed the orders but was then shot in the head from behind," Barbary said.
Spokesperson of the armed forces said in a statement on Monday that the car was violating the curfew at the southern entrance to the city of Damanhur in Beheira, and was speeding towards the checkpoint despite repeated calls to stop, which prompted security forces to open fire on it directly.
"No excessive gunfire was opened on the car in question nor any killing of those in it intended," the statement said, calling on people to adhere to the curfew to facilitate the work of security services.
The government had imposed a curfew in 14 governorates last Wednesday, including Beheira, from 7 p.m. to 6 a.m., but the prime minister exempted journalists from the curfew.
Barbary said that journalists were meeting with the new governor, Mostafa Hadhoud, until minutes before 7 p.m., and that Abdel Raouf gave a lift to the journalists.
"After he drove three, he drove to the bus terminal to drop me there," Barbary said. "When we got to the checkpoint, we followed the orders to return but then he was shot in the head from behind while driving away as instructed."
"The car hit a lamppost and I fainted and was later taken to hospital," he added.
Abdel Raouf's body was taken to the Damanhour General Hospital, and prosecutors began investigations.
The Journalists Syndicate in Beheira mourned Abdel Raouf, and asked Defense Minister Abdel Fattah al-Sisi to open an immediate investigation.