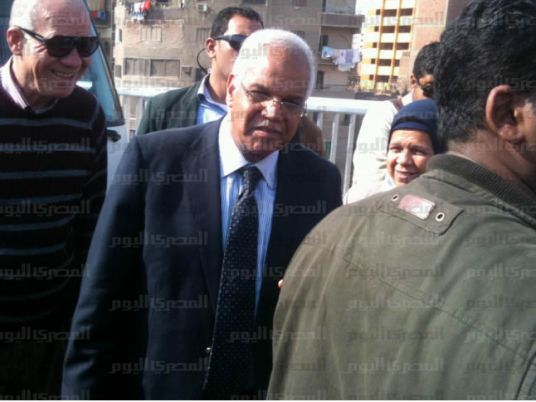 The Egyptian Journalists Syndicate's board is to file a complaint against the interior minister and head of Cairo Security Directorate citing violations by the police against journalists on Monday, April 25, as thousands attempted to hold anti-government protests in Cairo.
The complaint, to be filed with the general prosecutor, will include the testimony of journalists, including board members, who were allegedly harassed by the security forces, assaulted or prevented from entering the headquarters of the Journalists Syndicate.
The syndicate announced it would hold a press conference on Thursday at noon, after which the board members and journalists would head to the top prosecutor's office to file the complaint.
The syndicate has also called for the release of several journalists who were arrested on April 25 and the cancelation of arrest warrants issued against others.
Board member Khaled al-Meery said on Tuesday that security forces stationed outside the Journalists Syndicate headquarters on Monday used thugs to assault journalists, and also arrested a large number of journalists.
Meery told MBC Masr on Tuesday that six journalists from various newspapers remain in custody at police stations, and that they have not yet been charged or referred to the prosecution.
The clashes and arrests occured on Monday as police sought to deal with planned protests against the transfer of two Red Sea islands from Egyptian to Saudi control. The transfer of Tiran and Sanafir islands was agreed between Egypt and Saudi Arabia on April 8, during the visit of Cairo of King Salman bin Abdel Aziz.
However, the deal, which has yet to be ratified by Egypt's parliament, was met with anger by many activists and opposition figures in Egypt.
On April 15, thousands of people gathered in front of the Press Syndicate headquarters under the slogan "Friday of the Land" to voice their objection to the island transfer agreement. Protesters ended the demonstration then but said they would resume protesting on April 25, Sinai Liberation Day, a public holiday celebrating the return of Sinai to Egypt after 15 years under Israeli control.
Ahead of Monday's protests, both President Abdel Fattah al-Sisi and Interior Minister Magdy Abdel Ghaffar had warned against demonstrations, saying that attempts to create chaos or undermine the government would be met with a stern response from security forces.
Edited translation from Al-Masry Al-Youm