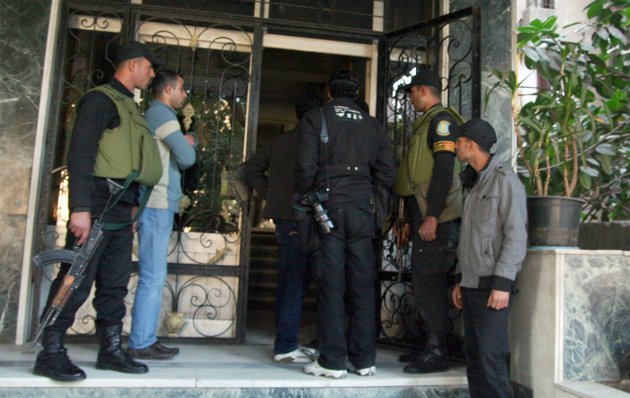 A judge adjourned the trial of Egyptian and foreign NGO workers in the Cairo Criminal Court on Sunday until April, following a chaotic first court session.
The day's proceedings were a disorganized beginning for the high profile case, which involves at least 16 American citizens and 27 other NGO workers accused of accepting foreign funds and working without a license.
Of the 43 defendants, only 14 appeared in court. None of the American or European defendants appeared despite their attendance being mandatory under the Criminal Procedures Law.
The court went into recess two minutes after convening because the Judge Mahmoud Mohamed Shukry objected to the noise from a large group photographers and TV crews who had formed a crowd outside the cage in which defendants appear.
An interior ministry official threatened to expel journalists.
When the judge returned, the charges were read out against the defendants, a process which took almost 30 minutes.
The defendants present denied the charges against them, which include establishing and running an NGO in Egypt without government permission and accepting foreign funding without the authorization of the Egyptian authorities.
Shukry said the case would be adjourned until 26 April in order for interpreters to be organized for non-Arabic speaking defendants, for defense lawyers to study the 2000 pages in the case, and for case documents in English to be translated into Arabic.
His decision could buy more time for a diplomatic solution to the case.
Defense lawyer Tawhid Ramzy told Egypt Independent that lawyers' rights had been "completely disregarded" during the investigation, saying that they had not been given access to case documents.
Ramzy added that he was confident that his clients from the International Republican Institute, one of the accused organizations, would be cleared of the charge of operating without government permission, saying that the government's failure to acknowledge an application submitted by the institute for registration could be interpreted as implicit permission under Egyptian law.
Chants of "down with military rule" erupted at the end of the court session. A civil claim lawyer responded by accusing the people chanting of being traitors.
A small crowd of people protested outside the courthouse during the trial, asking for the US nationals in the case be cleared in exchange for the release of Omar Abdel Rahman, an Egyptian imprisoned in the US under terrorism charges.