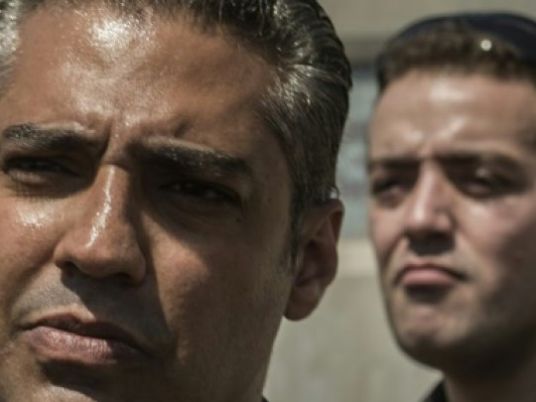 President of the South Cairo Criminal Court Hassan Farid responded to the British ambassador to Cairo's criticism of a court verdict sentencing Al Jazeera Channel reporters to prison.
The defendants are not journalists and are not registered with the Journalists' Syndicate or the State Information Services authority, said Farid in a statement Sunday.
The court had evidence that the defendants circulated rumors and false news about the internal affairs of the country, possessed broadcast devices without a permit from security and concerned authorities and displayed the news through the Al Jazeera Channel, which is prohibited from operating in Egypt, according to Farid's statement.
The reports from the criminal evidence investigations' department, as well as the reports from the technical committee formed by the Radio and Television Union (Maspero) to examine the evidence brought against the defendants, showed that the defendants displayed fabricated news, the statement added.
Details of the reasons behind the court verdict will be published within a few days to demonstrate the crime defendants committed against Egypt, he said.
The court sentenced Mohamed Fahmy, Baher Mohamed, Sohaib Saad, Khaled Mohamed, Shady Ibrahim and deported Australian journalist Peter Greste to three years in prison on Saturday in the case known publicly as the Marriott Cell.
British Ambassador John Casson said he was shocked and concerned in the wake of the decision.
"Britain actively supports stability in Egypt," Casson wrote on Facebook. "But the question today is whether this will be a fragile and temporary stability on the basis of suspending freedoms of media and expression and depriving individuals of their rights in the Egyptian constitution."
Egypt summoned the British ambassador over his comments on the Egyptian court's decision Sunday.
Edited translation from Al-Masry Al-Youm