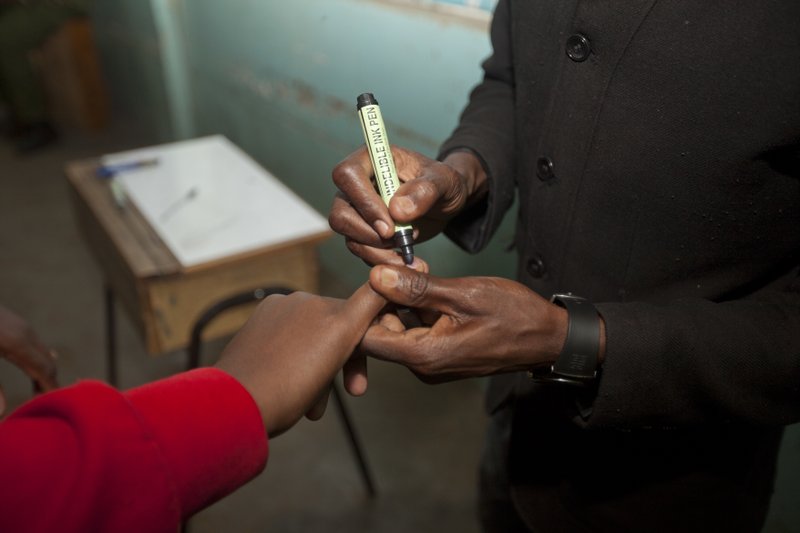 Kenya's election commission says about 6.5 million people, or one-third of registered voters, went to the polls in a repeat presidential election that was boycotted by the main opposition group.
The turnout in Thursday's election was much lower than the nearly 80 percent of registered voters who participated in an Aug. 8 election that was later nullified by the Supreme Court over irregularities, a decision seen as precedent-setting for Africa.
Wafula Chebukati, the election commission chairman, said late Thursday the count was based on results from 267 out of Kenya's 290 constituencies.
Authorities postponed voting in several counties until Saturday because opposition supporters prevented polling stations from opening and clashed with police. Four people were killed.
President Uhuru Kenyatta was declared the winner in the August vote; opposition leader Raila Odinga, whose legal challenge led to the vote being nullified, withdrew from the new election, saying the process was not credible because of the lack of electoral reforms.
Police reported violence in five of Kenya's 47 counties on Thursday.
Not a single ballot box was delivered to 190 polling stations in the opposition stronghold of central Kisumu city, said a senior election official, John Ngutai Muyekho. He sat with the uncollected boxes in a school guarded by security forces.
"If anyone comes to collect, I'm ready. But so far no one has," Muyekho said.
The Supreme Court nullified the August election because it found what it called illegalities and irregularities — the first time a court in Africa had overturned a presidential vote. The ruling was sharply criticized by Kenyatta, who seeks a second term. After voting Thursday, he said he will work to unify the country if re-elected.
"What we have is a problem of tribalism, and tribalism is an issue that we must continue to deal with and fight with as we continue to develop our country," Kenyatta said.
Many observers say Kenya's ethnic-based politics overshadow the promise of its democracy. Kenyatta, who got 54 percent of the vote in August, is from the Kikuyu group; Odinga, who got nearly 45 percent in the earlier election, is a Luo.
Odinga and Kenyatta also faced off in a 2013 election similarly marred by opposition allegations of vote-rigging. The opposition leader also ran unsuccessfully in 2007, and ethnic-fueled animosity after that vote killed more than 1,000 people and forced 600,000 from their homes.