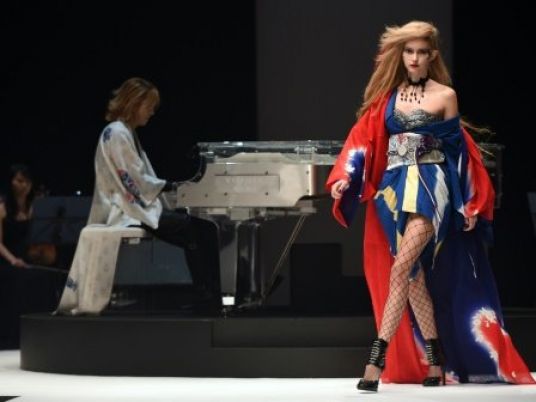 Tokyo fashion week drew to a close at the weekend showcasing a sexy new twist on the kimono, as the Japanese classic makes a quiet comeback into women's wardrobes.
In a departure from the heavy silk usually used to make the traditional garb, designers are turning to other fabrics such as jersey, wool and even denim to reinvent the kimono.
"The kimono is fashion… it shouldn't be presented as old-fashioned," said celebrated designer Jotaro Saito.
"I want to spread the message that kimono can be worn every day, it's something people can wear like they wear modern clothes, not… something that makes them feel like they are in a costume," Saito told AFP.
Kimono, which translates as "something to wear", was originally an umbrella term that covered a range of garments worn by Japanese men and women for centuries, but has now come to signify an outer robe tied with a wide sash known as an obi.
The kimono's decline dates back to the late 1800s when Japan's rulers opened up the country to modern influences after hundreds of years of self-imposed seclusion, signalling a shift that would see future generations embrace western clothing.
The garment never quite recovered its popularity thanks to a prohibitively high cost that can run into the thousands of dollars, compelling many brides to rent rather than purchase kimono for their weddings.
While kimono-clad women are still a regular sight in major urban centres, the complicated garment tends to be reserved for special occasions rather than daily use.
A key reason is that wearers have to master a complex sequence of knots to tie the kimono tightly, which intimidates many curious women into either taking lessons for months or opting for simpler western garb.
The downturn has prompted government officials keen to preserve traditional culture to come up with schemes like Kyoto's "kimono passport" which gives wearers discounts at stores and restaurants in the ancient capital.
But observers said the fashion industry's renewed interest may do more to ensure its survival.
Leopard print and fur
Designer Saito, born into a family of kimono-dyeing artists in Kyoto, has worked with the garment for two decades and believes change is critical to its future in fashion.
"What we need to do now is evolve the kimono. We cannot just do what previous generations have already done," Saito said.
"We need to respond to the street… to alter traditional designs and make something which suits women's lives today without losing the traditional appeal."
In a nod to labor-intensive Japanese traditions, Saito's kimono — which can cost more than one million yen (US$8,300) — are all made by hand, from the dyeing stages to stitching, printing and embroidery.
However, they showcase innovative patterns and incorporate modern touches, such as fur-lined hoods, while he uses a wide range of materials from utilitarian fabrics like denim and polyester to luxurious silk.
In his debut showing Saturday night at fashion week, heavy-metal rocker Yoshiki collaborated with a Kyoto-based brand on body-hugging kimono, slashed to miniskirt-length and worn with stilettos, leather collars and high-heeled boots.
The dyed-blonde co-founder of the band X Japan — who opened the show with a piano recital from Swan Lake — used leopard-print fabric and gold netting in his designs and told AFP he wanted to see women wear his kimono to concerts.
"I tried to combine rock & roll with tradition," he said.
"We do have a traditional line as well but today I emphasized… the sexier version."
Tied up in knots
Kimono's many layers and complex knots mean many women need to turn to classes or watch instructional videos on YouTube.
"It's ridiculous. There is no need for so many rules…. Let's make things simpler," said Souta Yamaguchi, a freelance fashion director who styles the kimono with urban street wear in his work for retailers.
"Let's look at creating (a kimono) which can be worn with a single belt, instead of so many different strings and knots."
Although purists initially reacted to designers' innovations with alarm, the tide has turned in recent years, said Manami Okazaki, author of "Kimono Now".
"Traditionalists were very critical at first when they saw what designers were doing but now they have realized that… these modern versions can work as a bridge to attract younger customers," Okazaki said.
"The hope is that once you introduce young people to kimono made by contemporary designers, they will eventually develop an interest in the traditional kimono too."
At a show by local label, Matohu, whose jackets and dresses are inspired by ancient techniques, kimono-clad Beniko Kinoshita said she used to borrow the garment from her mother before saving up to buy her own.
"I used to wear the kimono on special occasions but now I wear it every day… I find it appropriate for all situations," said the 39-year-old Kinoshita.
"I wish more people wore kimonos… you can only learn and realize (how special) a kimono is once you actually wear it."