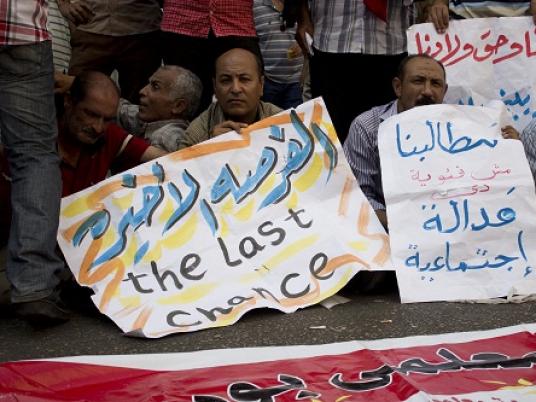 A wave of fresh labor protests has hit the country this week at schools, universities and government bodies, mostly demanding better wages and improved working conditions.
On Sunday, the second day of the new school year, thousands of workers at 13 public universities demanded pay equal to that of teaching staff and the ability to participate in university leadership elections. Some workers started a strike, threatening to continue until their demands are met.
While protesting employees demanding higher salaries at Cairo University shut its gates for more than two hours, students at Helwan University demonstrated to complain about delays in making accommodation available at the students' hostel. Students at the American University in Cairo also protested increased study fees.
Teachers have also escalated their strike, demanding the application of a new teacher payment scheme recently approved by President Mohamed Morsy. Abdel Nasser Ismail, a representative of a teachers' association, said support for the strike has reached 100 percent of technical education schools nationwide, adding that security authorities have threatened some teachers with detention.
Meanwhile, Education Minister Ibrahim Ghoneim and the Teachers Syndicate have played down the strike and questioned its true scope.
Workers at the Public Transport Authority also started a strike at six garages in response to an invitation by the Independent Staff Syndicate, demanding that its authority be transferred to the Transportation Ministry and calling for better payments. The other 22 garages did not take part in the strike.
While the official staff syndicate said that the strike had failed, protesting workers said other garages will join force Wednesday if demands are ignored.
In statements to Al-Masry Al-Youm, Mona Mostafa, head of the Public Transportation Authority, described strikes as uncivilized actions because they halted necessary actions at the beginning of the school year. She said the strike had failed and that negotiations were under way with protesters at two garages. Mostafa stressed that legal action would be taken against the strike's instigators, adding that the authority had prepared contingency plans for affected citizens.
Protests also reached the judiciary as workers at the Cairo Appeals Court, the New Cairo and Abbasseya courts, and the High Court of Justice protested a 10 percent salary cut. The protests brought activities inside the court to a halt.
At the Agriculture Ministry, hundreds of casual workers at ministry departments in Fayoum, Daqahlia, Kafr al-Sheikh and Beheira stormed the building and announced a sit-in inside calling for permanent employment.
Edited translation from Al-Masry Al-Youm