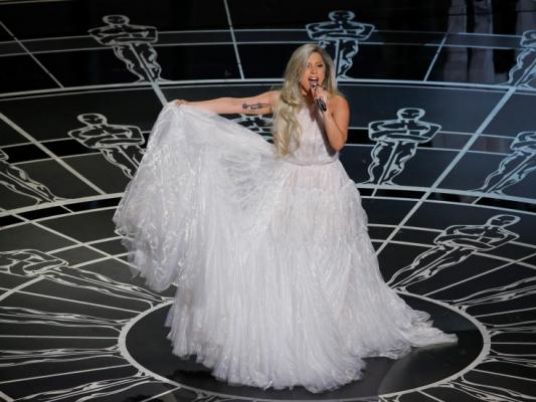 Lady Gaga on Friday described her Oscar performance with rape survivors as the most difficult of her life, saying that she remains in chronic pain from a decade-old assault.
The pop star on Sunday offered an emotional performance of her song "Till It Happens To You" at the film industry's gala awards, with university students who have experienced rape joining her on stage with arms joined in solidarity.
"I was never such a wreck as I was the week before this performance," Gaga told New York radio station Z100.

Speaking of her rape, she said, "It's the thing that I am the most ashamed of in my life, and I have always felt that it was my fault until this week."

Gaga, who turns 30 this month, previously revealed that she was raped by an older man when she was 19.
But she said that the Academy Awards performance marked a coming out of sorts, as previously the issue was "swept under" with people quickly moving on to other topics.
"People don't know this about me because I don't share it, and I know they see me as this kind of celebrity that has success and money and the world watching, and that I must have no problems.
"But I actually suffer from chronic pain all the time, and it's from this paralysing fear that I've experienced for almost 10 years," she said.
Gaga, whose real name is Stefani Germanotta, said that she had compartmentalized the experience in the back of her mind, but that it "stays in your body, in your tissues."
"So I feel physical pain, and there are a lot of people who suffer from chronic pain who have been through a traumatic experience," she said.
Gaga said that she later got matching tattoos with some of the young people at the performance, who had come on stage with slogans written on their arms such as "Not At All Your Fault" and "Unbreakable".
Gaga was nominated for an Oscar for the song, which appears in "The Hunting Ground", a documentary about rape on university campuses.
She was introduced by Vice-President Joe Biden who encouraged viewers to sign a pledge on the website itsonus.org.
The pledge, which has seen a surge of interest since the Oscars, commits the signatory to intervene in situations where a person is being forced into sex or being taken advantage of while incapacitated.