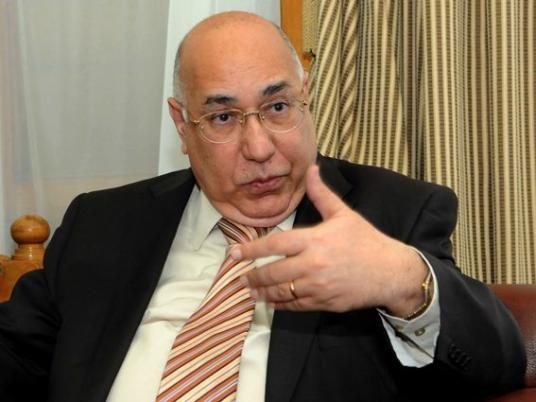 Prime Minister Kamal al-Ganzouri will hold a ministerial meeting on Saturday to discuss the budget for the coming fiscal year amid expectations that the deficit will continue to grow.
Under the Finance Ministry's draft budget, spending would be LE516 billion and the deficit LE170 billion for fiscal year 2012/2013, which starts in July, a significant increase from the LE140 billion deficit in the current budget.
Minister of Finance Momtaz al-Saeed held intensive meetings with the technical committees concerned with budget preparation after the cabinet discussed the budget proposal prepared by the ministry. He and International Cooperation and Planning Minister Fayza Abouelnaga are expected to attend the Saturday meeting.
Official sources at the Finance Ministry said a number of ministries have asked for their budget allocations to be increased, adding that several proposals for salary increases and subsidy restructuring, particularly for petroleum products, are being examined.
The sources said government investments in the new fiscal year amount to LE48 billion, but did not say how they would be financed.
The same sources said bonuses allocated to civil servants and pensioners are predicted to increase.
Hassan Ouda, a budget expert and professor at the German University in Cairo, warned against allowing the budget deficit to balloon to LE170 billion, predicting catastrophic consequences.
Ouda estimated that interest and loan payments account for an astounding 60 percent of the budget, adding that petroleum subsidies could create a crisis, particularly after they were increased to LE100 billion in the current budget.
Disagreements over certain budgetary items and uncertainty regarding foreign loans and grants are likely the reason why details of the budget have yet to be announced.
Amir Rezq, a former senior Finance Ministry official, warned of the repercussions of the widening gap between revenue and expenditures.
He said that employing temporary civil servants on a permanent basis based on a parliamentary committee recommendation made Monday would place an enormous burden on the state budget in light of limited liquidity. According to reports by the Central Agency for Organization and Administration, there are more than 300,000 temporary workers who, Rezk said, would cost LE6 billion annually to employ on a permanent basis.
Ganzouri told a news conference on Wednesday that in the five months since his government was appointed, it had reduced spending by LE25 billion in the current budget, initially estimated at LE490.6 billion last June, according to Reuters.
Edited translation from Al-Masry Al-Youm