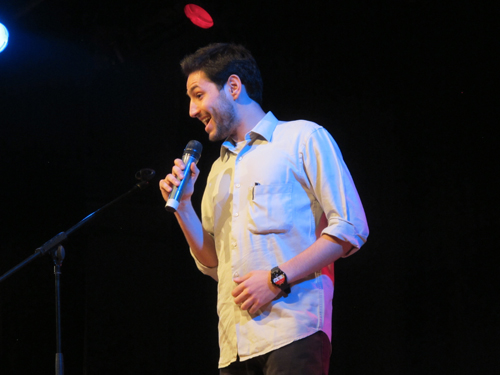 Hashem al-Garhy is more than your average comedian. He is an entrepreneur dedicated to developing the art of comedy in Egypt through his newly founded initiative, Al Hezb El Comedy — The Comedy Party.
Launched last August, the group's main mission is to build platforms for creativity and self-expression "under the banner of laughter."
"If we can't laugh about our past, then we cannot live happily in our present," Garhy says. "At the end of the day, most Egyptians love to laugh, with comedy being deeply engrained in us."
The group has since been acting as a springboard for local comedians, helping to bridge the gap between artist and audience through organized events, which feature stand-up, sketch and musical comedies.
Such performances have a long history in Egypt, dating back to the early 20th century, with icons such as Hassan Fayeq, Mohamed Abdel Quddous, and Yusuf Wahbi in the 1930s, and later Ismail Yassin and Mahmoud Shokoho. They performed in theaters, nightclubs, weddings and later films, presenting their societal observations musically.
But the stand-up comedy scene has gradually dwindled over the past few decades, and this is where Al Hezb El Comedy comes in as a fresh and reviving force.
Garhy says the modern local stand-up comedy scene started in 2007, when The Axis of Evil Comedy Tour visited Egypt to perform and hold auditions for local talent. The tour was aired on the US-based Comedy Central television station and featured four comedic performers: Palestinian-Americans Aron Kader and Dean Obeidallah, Egyptian-American Ahmed Ahmed and Iranian-American Maz Jobrani.
"I was always into comedy while growing up, and I loved the idea of making people laugh while on a stage," says Garhy. "When The Axis of Evil came to El Sawy [Culture Wheel], it was the first time I got to meet other aspiring comedians. The tour showed us that there was in fact a small market, in both audience and artists, for comedy shows."
The following year, Obeidallah and his comedy tour, Arabs Gone Wild, came back to Cairo to perform and hold more auditions. The event drew nearly 4,000 people and brought to light rising comedic stars, such as artist turned comedian George Azmy.
"The organizers kept emphasizing the need for all of us local comedians to join together and create our own comedy night and network," Garhy explains. "And that is when the local stand-up scene was really reborn."
Soon after, in 2009, Egyptian comedians Rami Boraie, Marwan Iman, Mohamed Shaheen and Gahry organized their first comedy night under the name "Shut Up and Laugh." About 750 people attended and the show garnered notable accolades.
"In the years after 'Shut Up and Laugh,' most of the active comedians were busy finishing up university, which caused us to hold off on organizing specific comedy nights," Boraie tells Egypt Independent.
Instead, they would sporadically perform in open-mic nights, such as Mariam al-Quessny's Mashrou3 Al Mareekh (The Mars Project), which launched in 2010.
"Mashrou3 Al Mareekh was essential to our development as amateur comedians," explains Boraie. "The local comedians would perform at the events — we would test out new material, and after several shows, we became more confident with our stage presence."
In fact, Al Hezb El Comedy was inspired by the open-mic nights.
"With each Mashrou3 [Al Mareekh] event, the audience was growing in numbers and so were the comedians," Gahry says. "We realized then that it would be better for us comedians to have a night specifically dedicated to comedy."
Several short months after the 25 January revolution began, Al Hezb El Comedy was born, empowering an alternative form of creative expression. Both comedians explain that in the beginning, the performances were mostly in English. But in the time since, Al Hezb El Comedy has added several Arabic performers into the repertoire.
In July, Al Hezb El Comedy successfully organized its sixth event in Zamalek's Left Bank Cafe. The lineup of amateur comedians included the observational storytelling of Boraie and Iman, the "Master of One-Liners" Shaheen, and the musical comedy duo Mohamed Farouk and Ahmed Sharawy known as "The No Talents."
The highlight of the evening came in the form of Boraie and his keenly sarcastic observations of Egyptian life. With a confident and well-timed delivery, his wry social and political commentary pokes fun at everything from President Mohamed Morsy's ambitious "100 day plan" to life as a newlywed.
"What's great about Al Hezb group is that it gives us a platform to experiment with jokes in front of an audience specifically there for comedy, versus open mics, where there are several types of acts," Boraie says.
While stand-up comedy has yet to fully catch on again in Egypt, both Boraie and Gahry are confident in the future growth of the industry. This past month alone, Cairo's comedy fans were privy to three separate nights dedicated to the art form.
"El Sawy [Culture Wheel] puts on sporadic comedy events," says Gahry. "It's a bit of a different audience than Al Hezb nights, which is great for testing out different material."
They have recently performed there alongside Adham Abdel Salem, Iman, Shaheen and headline act Noha Kato, who received a standing ovation at the closing of her set.
"What's incredible about Noha is that she is so new at this but so confident at the same time," says Gahry. "She started after us, but she is on a whole other level now."
Under the credo of "comedy, creativity and community," Gahry hopes that both the audience and performers can continue growing together. This month, Al Hezb El Comedy will celebrate its one-year anniversary with a night of comedy "filled with surprises" and few fresh faces.
Until then, video sketches by the group can be found on Al Hezb El Comedy's YouTube channel, and witty one-liners on their Facebook page.
"Someone once told me that even with all the terrible things we are going through here, we can still turn Egypt into a beautiful garden. That's what I am working toward through comedy — bringing everything to light and laughter," says Gahry.
This piece was originally published in Egypt Independent's weekly print edition.