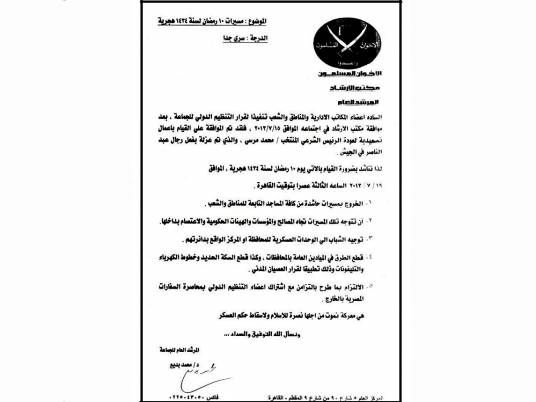 The Brothers Without Violence Movement has denounced the position of the Muslim Brotherhood group leaders who continue to pursue violence despite calls by the group's youth to renounce it. They say that the leaders are pursuing personal and political interests rather than the interests of the country or the group itself.
Movement coordinator Ahmed Yehya revealed that a leaflet written by the guidance bureau was calling for acts of banditry and for the besieging of public facilities and embassies.
The leaflet was approved by the guidance bureau on 15 July and signed by Supreme Guide Mohamed Badie.
It calls for an escalation of protests until the return of President Mohamed Morsy, who was ousted by "the army men of late President Nasser," as he put it.
The protests are planned for 3pm on Friday, 19 July, which also marks 10 Ramadan, the anniversary of the October 1973 war.
They plan to have mass marches starting out at mosques and heading towards government institutions, military installations, and embassies, including Egyptian embassies abroad. They also plan to block roads and railways and cut off power and telephone lines, in a prelude to a civil disobedience movement.
The slogan for this protest is "a battle we die for to bring victory to Islam and the overthrow of military rule."
Edited translation from Al-Masry Al-Youm