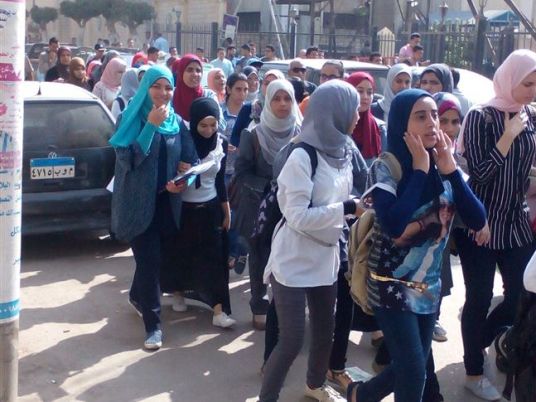 Photos allegedly of the Thanaweya Amma Algebra and Geometry exam papers were leaked online by the Facebook page "Shawming Byghashish Thanaweya Amma", just 30 minutes after the exam started on Tuesday.
An official source with the Education Ministry said they are investigating the incident and will take legal action if the culprit is proven guilty.
Thanaweya Amma refers to the final years of high school — a crucial educational stage in Egypt whereby students' scores in examinations determine whether they will be admitted to a free public university as well as what course they will be able to study.
 "Shawming Byghashish Thanaweya Amma" also leaked the French language exam papers for the Thanaweya Amma the same day.
The Education Ministry stated that the photos were being verified and traced to uncover the perpetrators in order to start legal proceedings.
Egypt's Thanaweya Amma exams started on Sunday June 4 and will continue over the course of a month, with 592 thousand students taking the examinations to secure their futures at universities.
"Shawming" has been publishing leaked examination papers and model answers for almost five years, the Facebook page admins thus far evading capture despite the efforts of Education Ministry officials and the police.
The "Shawming" admins previously published comments expressing concerns over the education system in Egypt, and it seems the leaks of examination papers this year may be partly intended to provoke protests that force change.
Authorities have worked to maintain consistent examination standards over the past few years, despite the political, economic and social turbulence of post-Mubarak Egypt. During the security void following the 25th of January Revolution, the Armed Forces transported exam papers using armored vehicles and helicopters.
Edited translation from Al-Masry Al-Youm.