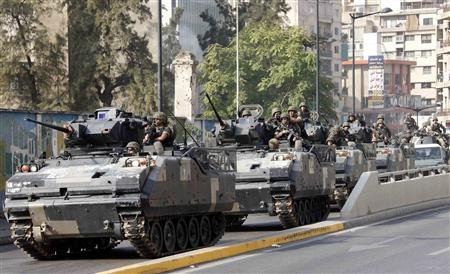 Lebanon's army said it arrested ten suspected members of militant groups on Saturday after they came over the northeastern border from Syria, and a security source said a local Islamic State leader was killed in the same raid.
No army personnel were reported injured or killed in the raid in Arsal, a town which militants briefly overran in 2014 before withdrawing to the hills around the border.
The army says it stages regular operations against "Islamic State" (IS) group and former Al Qaeda-linked militants in the mountainous region.
"An army unit carried out a swift raid at dawn today in Arsal, resulting in the arrest of 10 dangerous terrorists who had previously infiltrated it," the army statement said.
A military source said the local IS leader had ordered the killing of two Lebanese soldiers and the suspects were arrested on charges of smuggling weapons.
IS is still holding nine Lebanese soldiers taken hostage in the 2014 clashes.
A number of attacks in Lebanon in recent years have been linked to the war in Syria, where Lebanese Shi'ite group Hezbollah is fighting in support of President Bashar al-Assad.
Reporting by Ellen Francis; Editing by Louise Ireland; Reuters