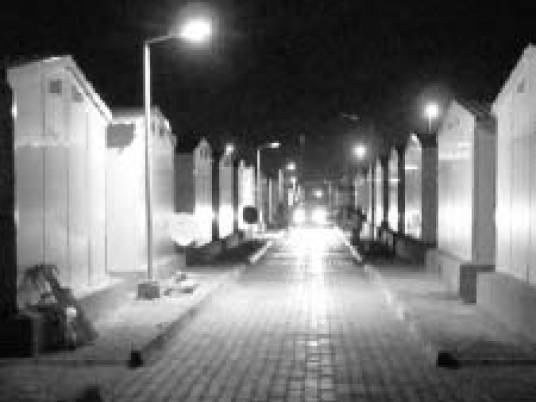 BENGHAZI, LIBYA — Word made its way around the Libyan Red Crescent camp in Benghazi that an outsider was present and asking questions. Men and women who lived there, each with a unique story, quickly sought to have their voices heard.
Though their circumstances differed, their concluding remarks were almost always the same: "Please help us."
The reality for sub-Saharan Africans in Libya was, according to reports, no walk in the park during the reign of now-dead strongman Muammar Qadhafi. Black refugees, asylum seekers and migrants regularly faced robbery, physical violence and indefinite detention.
Two years after the 17 February revolution, with a new Libyan government trying to find its footing, a proliferation of weapons, and militias with varying degrees of official acceptance, the plight of sub-Saharan Africans in Libya has worsened.
Amnesty International published a report late last year that documents the plight of irregular migrants in Libya. Testimonies and pictures support the report's claim that "a prevailing atmosphere of lawlessness, racism and xenophobia," which characterizes Libya at the moment, puts undocumented foreign nationals "at continuous risk of exploitation, arbitrary and indefinite detention in harsh conditions, as well as beatings, sometimes amounting to torture."
The total number of sub-Saharan African refugees and asylum seekers in Libya, once a major gateway to Europe, is just below 3,800, according to UNCHR, the refugee agency of the United Nations.
Benghazi's Libyan Red Crescent (LRC) camp provides a home to some 80 sub-Saharan Africans from places such as Ethiopia, Gambia and Somalia.
The camp also provides refuge for Tawerghans — black Libyans displaced from Tawergha, a town some 150 miles southwest of Tripoli. Militias cleansed Tawergha of its inhabitants in response to some Tawerghans' support for Qadhafi during the civil war.
The LRC camp's sub-Saharan African men complain about problems such as the discomfort wrought by broken windows, no heating and inadequate clothing in the face of the cold weather. The issue of clogged toilets comes up. An Eritrean woman worries that her two sons, aged 12 and 15 and born in the US, with passports to prove it, are going without an education.
The major concern men voice, though, is Libya Shield, the security apparatus under Libya's new Defense Ministry made up of former anti-Qadhafi militias. Libya Shield is charged with securing the camp and its residents.
A 28-year-old man from Ethiopia, who asked to remain nameless to avoid being "put in a container for speaking," says members of Libya Shield who work at the camp occasionally relieve some of its residents of their belongings. One cold recent night, Libya Shield members forced his friends and him from their room, recounts "Samuel," who has been in the camp for 11 months.
The soldiers used electric shocks to prod the men from their shared living quarters. Once outside, the soldiers took the men's mobile phones and money — hundreds of Libyan dinars.
"Daniel," a 24-year-old Eritrean man who also wished to remain anonymous, says Libya Shield members took the music equipment his friends and he shared as punishment for "talk[ing] directly to them," which was perceived as being oppositional.
Samuel says members of the militia have sexually assaulted women as well as men in the camp. He says the room in which he spoke with Egypt Independent has been the scene of beatings and electric shocks delivered to the camp's residents by Libya Shield members as punishment for perceived wrongdoing.
The Libyan Humanitarian Relief Agency, or Libaid, is the government entity responsible for coordinating national and international support for the LRC camp as well as similar camps throughout the country.
Libaid's international relations manager, Maha Nabous, says the agency is aware of Libya Shield's transgressions at the camp. A three-day training was held in late December to address the issue, with a focus on the security entity's precise role at the camp.
Following a discussion between the camp's Libyan Red Crescent manager, eight Libya Shield members and eight Libaid representatives, consensus was reached.
"The result is that the battalion should just guard the camp," says Nabous. "Their role will just be security, not management."
While conditions in the camp, according to testimonies of men and women living there, have much room for improvement, it is what occurs outside the gates of the camp that most worries residents.
"We cannot go outside this camp," says Daniel, who has been in the camp for a year. "We don't get safety in this camp. How can we expect that outside this camp?"
Men expressed fear of being captured by Libyans to be held for ransom or sold and resold to smugglers, who could try to get those yearning for Europe across the Mediterranean, or end up in forced labor situations. More common, though, is harassment and robbery.
And now, after Libya's civil war flooded the country's streets with guns, potential assailants are all the more threatening.
"You don't want him to kill you with the gun, so you give him what you have," Daniel says. "You pray he leaves you alone.
"There are some refugees without the ability to pay. They become victims of the Libyans. They shoot and kill you."
Diana Eltahawy, author of the Amnesty International report, says that with the current lawlessness that characterizes Libya, the country's hundreds of militias present a serious threat to sub-Saharan Africans.
"They commit various abuses against Libyans and non-Libyans with impunity," she says.
In this environment, and with a backed up legal system, "it is essentially impossible for someone marginalized, like sub-Saharan Africans, to seek redress through the judicial system."
"It is essentially impossible for them to complain to anyone," she says. "They are at the complete mercy of the men with guns, the militias. They are sort of outside the protection of the law."
During and after the revolution, it was widely reported that sub-Saharan Africans fought for Qadhafi as mercenaries. Some Libyans use this idea to justify abuse against sub-Saharan Africans.
"The allegations were widely exaggerated," Eltahawy says, "but in the public's mind, they remain."
A Somali youth who looks younger than his 18 years lies on a mattress on the floor, where he spends most of his time at the camp. He shows a wound on the inner thigh of his right leg.
The wound, wrapped in blood-soaked gauze, is a constant reminder to "Youssef" of a fateful event he experienced almost one year ago.
During a battle in Kofra, a Libyan man approached the teenager, said he was fighting for Qadhafi and shot him.
"He didn't ask. He just shot me," Youssef says.
The young man says he was not involved in any fighting.
Although his wound is supposed to be cleaned and its bandages changed daily, Youssef says that does not occur.
He says the camp's manager, Ibrahim Asfour, does what he can, but needs assistance. Like many men at the camp who shared their stories, Youssef expects UNHCR to help. He expresses frustration at the fact that the organization does not come to his rescue.
UNHCR's mandate, though, is politically constrained in Libya.
"UNHCR lacks a memorandum of understanding to regularize and formalize our activities vis-a-vis the government," a Tripoli-based UNHCR representative says. "This significantly constrains what we can do."
And with Prime Minister Ali Zeidan's government only four months into office, any progress in reaching an official and codified relationship between UNHCR and the Libyan state will likely take time.
Furthermore, because of the country's level of insecurity, UNHCR evacuated its international staff from Benghazi in July.
The UNHCR representative explains the three "durable" routes for the camp's sub-Saharan African residents. For men like Daniel, who cannot go back to Eritrea, where his life is under threat by the Eritrean government, and who also has no desire to stay in Libya, there is resettlement in a third country.
This option, though, is now unavailable in Libya, as there is "no solid legal footing."
Another option is local integration: training for people to develop skills and open businesses, and the like.
The third option is voluntary return.
"We have some cases of refugees who want to go back to their country, but not many," the representative says.
There is at least one candidate for this option at Benghazi's LRC camp.
With his health in peril, the threat of further violence and an uncertain future, 18-year-old Youssef, unable to move around, is desperate to get out of his current situation.
"Send me back to my country. It is better to die in my country than to be here in bed in another country. I'm in real pain," he says, and, echoing a widely expressed thought, he adds, "with no one to help me."
Eltahawy notes that the European Union, not wanting sub-Saharan Africans like those at Benghazi's LRC camp arriving on its shores, is complicit in Libya's haphazard way of treating them.
Daniel explains yet a fourth option: "Because of the pressure of the battalions, there are refugees who jump from camp and go away to other cities. Because of this they become victims of the Libyans."
Enduring a dire existence in Libya, and with Europe on the horizon, for some sub-Saharan Africans there is still another, fifth option, Daniel says.
As some sub-Saharan Africans attempt to cross the Mediterranean for a better life, they become "victims of the sea."