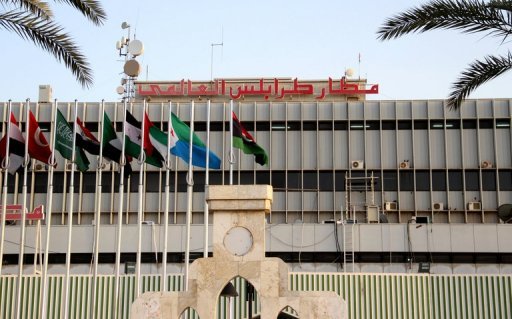 Egypt is forcing Libyan airliners flying between Turkey and Jordan and the capital Tripoli to stop in eastern Libya to allow the country's internationally recognised government to screen out potential Islamist fighters, officials said.
The move underscores Egypt's engagement in Libya to bolster the weak official government, holed up in the east since it lost control of the capital, in its fight against Islamist militants exploiting the chaos that followed the fall of Muammar Gaddafi in 2011.
Egyptian jets bombed suspected Islamist militant targets in the eastern Libyan city of Derna last week after Islamic State released a video showing the execution of 21 Egyptian Copts.
Libya's internationally recognised prime minister, Abdullah al-Thinni, accuses a rival government and parliament controlling Tripoli of having ties to radical Islamists, charges they deny.
Thinni is allied to Egypt.
Islamic State militants have claimed attacks on foreign missions in Tripoli as well as a rocket strike on the eastern Labraq airport and a twin car suicide bombing in the eastern town of Qubbah, killing more than 40 people.
In a move to control air traffic to Libya, Egypt has said that flights in either direct between the Libyan cities of Tripoli and Misrata, and Turkey or Jordan, via Egyptian air space, must make a transit stop in eastern Libya, Libyan and Egyptian officials said.
Thinni told Reuters Egypt had closed its air space to planes serving western Libyan airports so that departure and passport procedures would be conducted by officials from his government in the east.
"The (air space) was closed for security reasons, to stop terrorists and weapons reaching Libya," Thinni told Reuters in a written response to questions.
FLIGHT ROUTE
An Egyptian aviation official confirmed the ban on flights serving Tripoli and Misrata, saying Cairo would only deal with airports held by the recognised government. The website of Tripoli's Mitiga airport confirmed the changed flight route.
When Istanbul-bound planes operated by Libyan carriers touch down in Labraq or Tobruk, two small airports in the east, passengers must disembark for passport checks, witnesses said.
Libyan carriers flying to Turkey and Jordan must cross Egyptian airspace as they are banned from Greek or Cypriot air space immediately to the north.
A Reuters reporter visiting Labraq airport saw officials checking identity cards of passengers arriving on Tripoli flights.
In an attempt to stop would-be fighters reaching war zones in Syria or Libya, Egypt has banned travel by Egyptians to Libya and requires young males travelling to Turkey to obtain a permit.
Cairo says it is to train Libyan forces loyal to Thinni and his government, which struggles to make an impact working out of hotels in the small eastern city of Bayda near Labraq airport.
Egypt, like most Arab and Western countries, has withdrawn its embassy staff from Tripoli but has set up a presence in Tobruk, where the elected House of Representatives is based.
The Tripoli government accuses army general Khalifa Haftar, allied to Thinni, of receiving military support from Egypt.
Haftar's warplanes often attack forces loyal to Tripoli as part of his self-declared war against Islamists. Haftar denies receiving Egyptian support but analysts wonder how his outdated jets can fly almost daily missions.
There has been no official comment from the Tripoli government, but Egypt's decision to force planes to land in the east is likely to widen divisions in Libya. Some Libyans living in the west have expressed reservations on social media at having to fly through the east.
Turkish and Jordanian airlines no longer fly to Libya.