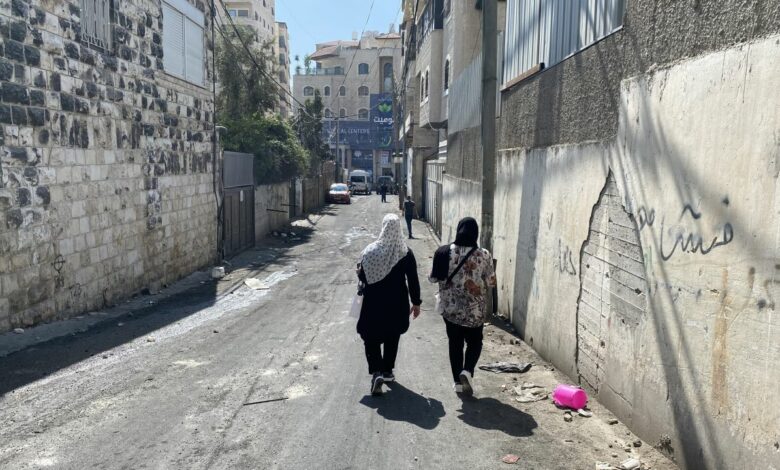 CNN – The people of this isolated, poverty-stricken island of refugees from the wars of 1948 and 1967 have never had it easy. But in the past two weeks, conditions at the Shuafat camp in East Jerusalem have become even more unbearable.
Israel has made life more difficult for the residents of the Shuafat refugee camp since an October 8 attack at the camp's military checkpoint left one Israeli soldier dead and another seriously wounded.
Since then, Israel Defense Forces troops have invaded houses in the middle of the night, using stun grenades and tear gas intensively in and around the houses as they searched for the suspected gunman, a resident, Udai Tamimi. Tighter restrictions created long lines of cars at the entrance to and exit from the camp, leaving residents with the feeling that Israel is denying their freedom and their movement.
"They are collectively punishing us," resident Asa'ad Ali said. "We are in a crisis situation. The policy on the checkpoint is humiliating us to prove that they are still in power after the security failure that happened on the day of the attack. If you go to the zoo in Jerusalem you will find animals getting rights that we haven't had here for decades."
Ten days after the checkpoint shooting, not far from where Tamimi was thought to be hiding, he carried out a new shooting attack, leaving one Israeli soldier lightly injured, before he was shot and killed by Israeli soldiers. Israel responded by imposing even more restrictions on the refugee camp where he grew up.
More than 130,000 Palestinians live in the East Jerusalem refugee camp of Shuafat and the adjacent town of Anata, according to the camp's information center. It's the only Palestinian refugee camp left inside the municipal boundaries Israel constructed for Jerusalem after taking control of the eastern part of the city in 1967. But although it is within the municipality, the camp lacks any proper infrastructure or services that other neighborhoods in Jerusalem are getting, such as garbage collection, water pipes, sewage system and sanitation.
Jerusalem municipality authorities did not respond to a CNN request for comment on the lack of public services in the refugee camp.
A wall isolates the camp from the rest of the city. Camp residents, who all hold Jerusalem Israeli identification papers, have to cross through a checkpoint into Jerusalem for schools, work and shopping.
Atallah Ismail was in mourning for his mother last week as the search for Tamimi was going on. She died two days after the checkpoint attack in a hospital in Jerusalem. Ismail was not allowed to be with her.
"They are pushing us to lose the last drops of hope. Life is getting more and more unbearable here," he said. "I couldn't say goodbye to my mother. We couldn't even think of bringing her body to her house before burial so people who loved her and were raised by her can see her for the last time. Because there is a closure that will also prevent us from taking her to the cemetery, she was buried without a funeral in Lion's Gate cemetery."
Israel denies that the Shuafat camp is completely closed
"The Shuafat checkpoint has been open since Monday [October 10] to vehicle and foot traffic under a strict check carried out in accordance with the operational need, as part of the continued hunt for the terrorist who carried out a shooting attack at the site a few days ago," Israel Police said in a statement on October 12.
A general strike was announced in the camp the day of the police statement as a rejection of what residents see as a blockade, the nightly invasions of residents' houses, and arrests by Israeli police who were still looking for the shooter.
Hundreds of young men blocked the entrance of the camp that day. Shops closed their doors and Israeli police and border police stood in opposite, ready for clashes.
Maha Abrash, 35, had an appointment at the hospital as she was in her 32nd week of pregnancy.
"I am so worried about losing my baby or giving birth early. I've been in pain for three days and tear gas really affected me badly," she said. "I tried to cross three times but we cannot use cars to cross and only allowed to walk through, but standing in the line can take hours."
Violence and tensions in the West Bank and East Jerusalem have been escalating rapidly this year, with more frequent incursions by Israeli forces into the West Bank and more shooting attacks by Palestinians in the West Bank and Israel.
Residents of Shuafat refugee camp see it as a ticking bomb, and accuse Israeli politicians of playing a game with their lives before elections on November 1.
"If I wake up and I do not find bread or milk or basic needs for my children because of Israel then yes, I will go for an attack," said camp resident Asa'ad Ali. "It is teenage-style Israeli politics … .they should let people love life because it's either we live in dignity or we die. They should give people their rights instead of looking to how to put them down in the earth."