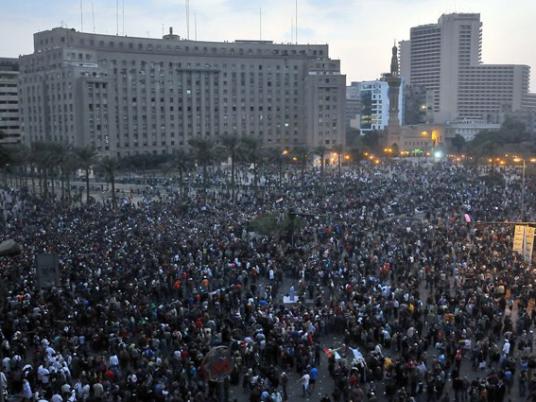 4:00 pm: New Prime Minister Kamal al-Ganzouri issues his first statement as premier. "A cabinet won't be formed before parliamentary elections," he says.
Ganzouri says that he has been granted powers more than any prime minister ever has.
"I have enough power in this position to help me to serve the country. Talks to form a government haven't started yet."
Ganzouri describes his mission as "a true challenge" and vows to form a government "acceptable" to all Egyptians. Ganzouri says he is welcoming youths' and revolutionary groups' suggestions for who should be the new cabinet members. He says Field Marshal Hussein Tantawi is not willing to stay in power.
3:30 pm: Tahrir protesters decide to sit-in at the cabinet building to prevent Ganzouri from entering his new office.
2:00 pm: Ganzouri begins talks to form a new government. State TV says he will hold a press conference shortly.
1:45 pm: Trade union members march down Qasr al-Aini Street toward Tahrir Square to demand the military hand over power to a civilian government.
1:10 pm: Thousands march from Mostafa Mahmoud mosque in the Mohandiseen neighborhood heading to Tahrir Square, chanting, "SCAF should go back to the barracks."
1:03 pm: State TV reports that Field Marshal Hussein Tantawi has commissioned former Prime Minister Kamal al-Ganzouri to form a national salvation government. Ganzouri will be given all the powers necessary to perform his duties, says the report.
1:00 pm: Thousands chant in Tahrir, "The people want to topple the field marshal," in reference to Hussein Tantawi, the head of the Supreme Council of the Armed Forces (SCAF).
12:55 pm: State TV reports an Al-Azhar official is giving a speech in Tahrir Square on behalf of Grand Sheikh Ahmed al-Tayyeb.
12:35 pm: In a friday sermon in Tahrir Square, Sheikh Mazhar Shaheen called for a national salvation government including presidential hopefuls Mohamed ElBaradei, Hamdeen Sabbahi and Abdel Moneim Abouel Fotouh.
11:13 am: Presidential hopeful Mohamed ElBaradei announced on Twitter that he will participate in the protest at Tahrir today. "On my way to Tahrir to pay my respects to the martyrs. Their sacrifice will not be in vain. Together we shall prevail," ElBaradei tweeted.
10:25 am: The Health Ministry says 65 ambulances are stationed around Tahrir Square to provide medical help for protesters should they need it. Health Ministry Undersecretary Hisham Shiha said in a statement that hospitals near the square are on emergency alert.
Earlier in the day: Hundreds of Egyptians arrived in Tahrir Square Friday morning to participate in the "Last Chance Friday" protest. Many political forces have called for a massive protest on Friday to demand the Supreme Council of the Armed Forces (SCAF) transfer power to a civilian government.
The protest name references giving the SCAF one last chance to step down and transfer power to a civilian-led national salvation government.
Clashes that raged from Saturday until Thursday morning between security forces and protesters left 41 dead, including 36 in Cairo, two in Alexandria, two in Ismailia Governorate and one in Marsa Matrouh Governorate, according to the Health Ministry.
Former Egyptian Prime Minister Kamal al-Ganzouri met with Field Marshal Hussein Tantawi on Thursday, Al-Ahram newspaper reported, and unconfirmed reports have said Tantawi tasked Ganzouri to form a national salvation government.
Other reports also said former Arab League Secretary General Amr Moussa turned down the post.
Tahrir protesters, meanwhile, refused the appointment of either Ganzouri or Moussa as prime minister.
Many political forces have announced their plans to participate in the Friday protest, including the 25 January Revolution Youth Coalition, April 6 Youth Movement, Egyptian Social Democratic Party, Socialist Popular Alliance Party, Egyptian Communist Party, Tagammu Party, Adl Party, and National Association for Change.
Islamist political forces remained divided on whether to participate in the protest until Thursday evening. The Nour Party, Salafi Dawa group, Fadila Party, and Reyada Party all announced they will take part in the protest, but the Muslim Brotherhood and Jama'a al-Islamiya said they will not participate in any protests until the start of parliamentary elections.