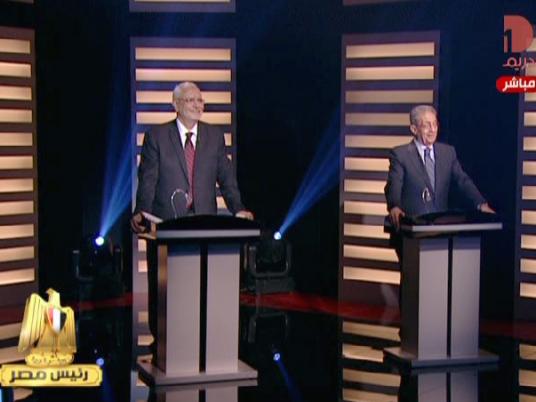 Thursday night was Egypt's first presidential debate ahead of the presidential elections slated for 23 and 24 May. The debate was hosted by Yosri Fouda and Mona al-Shazly, and was organized by Al-Masry Al-Youm, Al-Shorouk daily, Dream TV and OnTV. The first debate was conducted between presidential candidates Amr Moussa and Abdel Moneim Abouel Fotouh, who have been leading opinion polls in the last few weeks.
The following are live updates from Egypt's first presidential debate, starting at the bottom of the page. For more updates you can follow Egypt Independent's Twitter feed @EgyIndependent.
—
Debate ends.
Abouel Fotouh: I address the Egyptian people. We are picking a president for the first time, let no one push us backwards. The Egyptians made a revolution and are able to build this country. Egypt is strong if we stand together and do not respond to the attempts to divide us into Islamists and Christians and liberals.
Moussa: Today we saw a contradiction between the book and his comments. Where is the candidate? Who is he? We don't know who he will be. I'm sorry to say we must warn the Egyptians that the next president must be able to lead this country forward and has no reference except the nation.
Final comments are to be made.
Abouel Fotouh: Regarding the accusation that we marginalized women, Islam elevates the woman. Some thoughts have been ascribed unfairly to Islam.
Moussa: Do not forget I was foreign minister and that is the peak of diplomatic service. [Continues to read more excerpts of the book.]
Abouel Fotouh: He is transmitting misinformation. That is not my book and this quote is from youth from Jama'a al-Islamiya. In the book I spoke out against violence.

Moussa: You speak a lot of the past, I'll read an excerpt of your book. [Reads an excerpt about Abouel Fotouh advocating violence at one point.]
Moussa: He doesn't understand what is happening.
Abouel Fotouh: Moussa still talks in generalities that don't exist on the ground. We must admit that the former regime caused deterioration in our relations with the Arab world and Africa.
Moussa: The grandstanding is clear from Abouel Fotouh and others. He had connections while incarcerated and spent most of his sentence in Qasr al-Aini hospital. The foreign minister disagreed with the president, he was dictating foreign policy. Who mended relations between Syria and Turkey? The Egyptian foreign ministry. Attacking the foreign ministry is sad coming from a presidential candidate.
Abouel Fotouh: One of the strange things I heard today from Amr Moussa was that he was an opponent of the Mubarak regime. I must be a supporter of Mubarak then.
Abouel Fotouh: Moussa insists that our relationship with Africa deteriorated only in recent years, but that is not true. It started in 1995 with the assassination attempt in Addis Ababa. And the deterioration with the Nile Basin countries. We failed in our relationship with Sudan and South Sudan, how about the rest of Africa?
Moussa: I'm sorry to say Abouel Fotouh chases slogans and chooses selective comments. I'm noticing inaccuracies in Abouel Fotouh's statements.
Moussa: I answered that question. It is a country that advocates an aggressive stance but I do not want to chase these emotive expressions, but the responsibility of the president is to be removed from this and make the right decision for the country.
Abouel Fotouh: I want to ask Moussa about Israel. With its threat to our national security and its broach of our sovereignty does he not still consider it an enemy?
Moussa: I am against waging war in Iran.
Moussa: Palestine is central to the Egyptian state.
Moussa: I plan to revisit the relationship with Israel. Jerusalem has to be the capital of Palestine
.
Abouel Fotouh: Iran is not allowed to promote Shiism in Egypt.
Abouel Fotouh: Camp David stipulates revisiting the agreement every five years.
Abouel Fotouh: Israel is an enemy.
The candidates are asked a question about foreign policy and Israel.
Moussa: Egyptian diplomacy began caring about Egyptians abroad when I took over.
Abouel Fotouh: The NGOs [foreign funding] case exposed a scam and was a humiliation for the judiciary
Abouel Fotouh: Egyptian citizens' dignity should be respected in and out of the country. Where are diplomatic missions in this?
Abouel Fotouh: Our relationship with African nations was shaken since the assassination attempt of Mubarak in 1994.
Abouel Fotouh: Did you have a role in the gas deal with Israel?
Abouel Fotouh: How did the Arab League accept the entry of NATO into Libya?
Moussa to Abouel Fotouh: I spoke of simple loans and also of partnerships. Our market has to open up. We need to be able to export our manpower.
Abouel Fotouh to Moussa: To what extent you think loans can save the nation?
Moussa: The issue of virginity tests needs investigation. No citizen can be humiliated, especially women.
Abouel Fotouh: Military police accused of performing virginity tests need to be investigated.
Abouel Fotouh: No institution in a democratic state can be above the law, including the military institution.
Moussa: The president has the right to appoint the minister of justice.
Moussa: The state has to support the military institution to develop itself.
Moussa: The armed forces have a lot of investments for self-sufficiency. There needs to be a debate about the framework.
Abouel Fotouh: I don't mind if the minister of justice is civilian, but the current conditions require that the minister remain from a military background for the time being.
Abouel Fotouh: Any change to the military institution has to be made in agreement with the institution itself.
The presenter asks about the military's budget.
Moussa: Education doesn't just need an increased budget but a change in mindset.
Abouel Fotouh: For the first 100 days, we will work on security and judiciary reforms to restore state prestige.
Abouel Fotouh: Two main projects we will work on: health, and education and scientific research.
Moussa: Parliamentary majority is legitimate and I will deal with them, but my opinion in general is that religious parties harm the fabric of society.
Abouel Fotouh to Moussa: If he is against religious parties, which represent a parliamentary majority, how will the president deal with them if elected?
Moussa: Candidates who say they are against religious parties should consider the support they get from religious parties.
Moussa: I am against religious parties. I am okay with guiding principles and ideologies. But religious parties are discriminatory in their essence.
Moussa: The Brotherhood is no longer banned but yet not legalized, so this needs to be resolved.
Abouel Fotouh: I am against religious organizations that are exclusive to certain groups. But I don't have a problem with religious references.
Abouel Fotouh: There should be no special privileges for the Muslim Brotherhood. All civil society organizations should work within the context of the law.
The candidates are asked what the legal status of the Muslim Brotherhood should be.
Moussa: Police reform should be the priority in the first 100 days after the presidential elections.
Abouel Fotouh: The Ministry of Interior needs to be restructured and will be relieved from civilian activities to focus on crime prevention.
The presenter asks about security.
Moussa: There has to be a law to determine who is from the toppled regime.
Abouel Fotouh: There is a technocratic class who worked in the previous regime and who cannot be accused of being Mubarak's men. I can work with them.
The presenter asks if the candidates plan to work with people affiliated with the old regime.
Abouel Fotouh to Moussa: The Islamist movement I was part of and which I am proud of has been peaceful since the 1970s.
Abouel Fotouh to Moussa: Most Egyptians voted in favor of the constitutional amendments. Moussa is like the regime that he served: He doesn't respect the opinion of the majority.
Moussa to Abouel Fotouh: You had a role in the Jama'a al-Islamiya, which is accused of killing dozens including women and children. Explain your position.
Moussa to Abouel Fotouh: How can you say you were with the revolution when you started by endorsing the constitutional amendments back in March 2011, when all revolutionaries were against them?
Moussa: The former Brotherhood supreme guide has acknowledged my role as a dissident in the old regime.
Abouel Fotouh: When Moussa was foreign minister, Egypt's relations with African and Islamic countries deteriorated.
Moussa criticizes Abouel Fotouh for mentioning the alleged bad health of other presidential candidates.
Moussa: I have some feddans in the countryside and a family house. I also have an additional apartment.
Abouel Fotouh: I am a retired doctor. My income is from private business. I earn LE10,000 per month and a house. I only suffer from diabetes and blood pressure.
Moussa: The salary of the president should be regulated by law. Palaces are owned by the state and are a form of state prestige.
Abouel Fotouh: I don't want special funds for the president of the state. Presidential palaces have to be opened to the people. I just need an office.
The presenter asks about presidential finances.
Abouel Fotouh: Vote for me because I want to unite all political and religious forces and that is what I have succeeded in and that was emblematic in the January 25 revolution. We don't disagree about improving this country. Some think there is a duality but that is a misconception. Don't vote for those who did not stand with this revolution and its goals.
Moussa: I urge citizens to vote for me because I have already been tested in many posts. Egypt is now in an existential crisis and needs a statesman who understands the world and the region. To vote for someone who is going to try his luck is playing with fire.
The presenter asks "Why should people vote for you?"
Moussa to Abouel Fotouh: I endorsed Mubarak as opposed to his son Gamal in the succession context.
Moussa to Abouel Fotouh: Abouel Fotouh is a Salafi with Salafis, and a liberal with liberals. Double standards.
Abouel Fotouh to Moussa: In 2010 Moussa endorsed Mubarak's presidency.
Abouel Fotouh to Moussa: I resigned from the Brotherhood and my presidency has nothing to do with their endorsement process.
Moussa to Abouel Fotouh: You supported the Brothers in the past. What will this mean now?
Moussa to Abouel Fotouh: What we heard is that the endorsements for Abouel Fotouh were heavily sponsored and we need to know the funding source.
Abouel Fotouh: The previous regime is the one that used to exclude people. Those that imprisoned me are those whom I consider non-honorable.
Moussa to Abouel Fotouh: What do you mean by honorable political forces? What are your criteria? I only know of patriotic and non-patriotic forces.
Abouel Fotouh: No foreign party proposed to fund my campaign. My campaign depends on the effort of the youth.
Moussa: So far, I have been spending from my own money and that of my family. We had to reduce ads because they are pricey. We spent about LE3 million.
The candidates are asked about their campaign funding.
Abouel Fotouh: Second republic means real ministers who are also politicians. The president is a team leader. He has to rely on advisors.
Moussa: The Constitutional Declaration stipulates that a vice president be appointed 60 days after the presidential elections. Experience is very important in this position.
The candidates are asked to explain their positions on the role of a vice president.
Abouel Fotouh: The health budget needs to rise to 15 percent from 4 percent. Doctors' remuneration should be improved.
Moussa: We used to have health units in every village. We have to reach every farmer with small hospitals or even health units.
The presenter asks a question about health care.
Moussa answers Abouel Fotouh: The principles of Sharia represent the context of values of Islam. There is a difference between applying Sharia and applying the principles of Sharia.
Abouel Fotouh asks Moussa again about what he means by "the principles of Sharia."
Abouel Fotouh to Moussa: Food subsidies should remain. Energy subsidies should be lifted for some sectors, such as the entertainment sector.
Moussa asks Abouel Fotouh: How can we make sure subsidies reach those who need them?
Abouel Fotouh: State income can rise from 15 to 25 percent through taxation. Subsidies should be lifted from energy-intensive industries
Moussa: I am with progressive taxation. The taxation system has to be robust. Capital gains and real estate taxation are indispensible.
Abouel Fotouh connects raising wages to reforming the tax structure.
Abouel Fotouh argues that the minimum wage is connected to inflation and prices, but for now Egypt has to respect the figure of LE1200 that came out of the court ruling.
Moussa cites a court ruling with regards the minimum wage and says it has to be respected.
The presents asks about wages.
Abouel Fotouh calls for the 1971 Constitution's stipulations with regards the armed forces to be re-enacted now.
Abouel Fotouh says that political tension with the SCAF doesn't mean a lack of respect for the armed forces.
Moussa says the armed forces' budget has to be discussed by the National Security Council.
Moussa states that the armed forces have an important role: to defend the nation. He says that after the transfer of power from the SCAF to an elected president, the armed forces will return to their barracks.
The presenter asks a question about the role of the military.
Abouel Fotouh asks Moussa what he means by the principles of the Sharia.
Abouel Fotouh answers Moussa, saying that God gave people the right to choose, and that is why apostates should be given the chance to repent.
Moussa asks Abouel Fotouh if he accepts religious conversions, and accuses him of having contradictions in his approach to Sharia.
Abouel Fotouh cites Islam as the main source of legislation under the supervision of the Supreme Constitutional Court.
Abouel Fotouh says that there is no contradiction between religion and citizenship, and that Islam is a religion that looks out for the interests of people in all walks of life
Moussa states that Sharia's principles should be the foundation of legislation, while other religions should have their own rules, characterizing this as the desired relationship between religion and the state.
The presenter asks a question about Sharia law.
Abouel Fotouh says the Constituent Assembly has to be formed from outside of the Parliament.
Moussa says the drafting of the constitution should be an inclusive process.
Abouel Fotouh says the cabinet should be appointed by the parliamentary majority.
The presenter asks about the nature of the state.
Moussa says he doesn't think chaos will continue when he is president. Interventions are the cause of the current problems.
Abouel Fotouh asks Moussa: "When will we stop calling those who express themselves peacefully anarchists?"
Abouel Fotouh to Moussa: That is inaccurate. I partook in peaceful protests in solidarity with the killed and wounded.
Moussa says that Abouel Fotouh led some of the recent protests and then described them as inappropriate, calling this a contradictory position.
Abouel Fotouh says working in unity to solve the nation's problems is a must.
Abouel Fotouh says if he were president, the Abbasseya clashes would not have happened. He says the right to peacefully protest should be protected.
Abouel Fotouh says he doesn't think protests will increase after the election of a president. The protests are a product of a failing regime that is gone.
Moussa says sector-based protests are expected because the state was not supporting them. That's why the state has to get ready to reform all these conditions. Transparency and planning are a must.
Abouel Fotouh accuses the current authorities of being responsible for the clashes in Abbasseya last week.
The presenter asks a questions about protests.
Moussa reiterates that Sharia principles should be the source of all legislation, with respect given to everyone and to other religions.
Moussa wants a state in which citizens feel safe and confident, heading in the right direction and responding to people's demands.
Abouel Fotouh says he dreams of a democratic country ruled with Sharia principles where Egyptians' dignity is preserved.
Abouel Fotouh remembers the martyrs of the 25 January revolution.
The debate starts.
The hosts remind the audience of the 25 January revolution's role in making today's presidential debate possible.
TV hosts Mona al-Shazly and Yosri Fouda open the presidential debate.
Presidential debate rules are presented and Al-Shorouk Editor-in-Chief Amr Khafaga says US experience was used as a reference for the debate.
Different pollsters comment on presidential elections in Egypt and explain their research strategies.
First presidential debate set to start in Egypt.