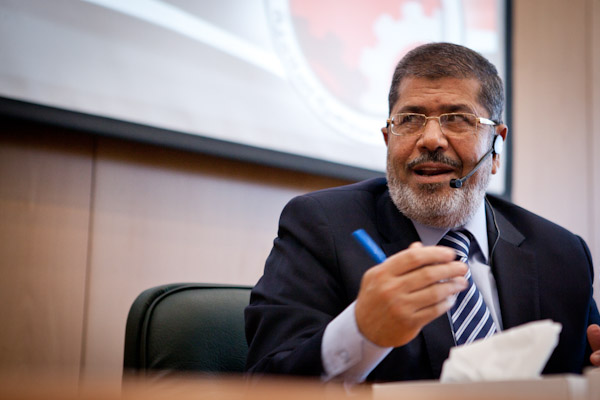 President Mohamed Morsy is seeking to use public spending to build a base of support in diverse sectors of society, but inflation and political deadlock threaten to sink his plans.
Morsy has promised a 15 percent social allowance rise to the basic salary of public sector workers and pensioners, as well as a rise in payments provided to the poor.
"In the first 100 days, he wants to focus on the concerns of ordinary Egyptians to show that this is a president who is aware of their problems, and that this represents a new start," said Mohamed Gouda, a member of the Freedom and Justice Party's economic committee.
But he acknowledged that a tough road lies ahead economically.
"We can't resolve Egypt's economic problems in 100 days, and we are well aware that these are short-term measures," he said.
Engaging the poor, and influential
The rise in allowances is a costly promise, but one that would affect many people.
Said Hirsh, London-based economist at the consultant firm Capital Economics, said the move had political undertones.
"It's a way to buy support from the public sector. These institutions are supporters of the old regime and the military, so it's a way for [Morsy] to get their support — because if he doesn't, it could make the day-to-day running of government difficult," Hirsh said.
Finance Minister Momtaz al-Saeed is quoted in Tuesday's papers as saying that the rise in the base salary for public sector workers and pensioners would cost the country LE3.5 billion.
This would be paid for by the state's recently passed budget for 2012/13 and would be applied to salaries starting this month.
Armed forces' pensioners will also get a 15 percent increase in their social allowances. Prior to Morsy's announcement, the Cabinet had made plans to raise the social allowance by 10 percent across the board.
State-run paper Al-Akhbar reported that 6.1 million public sector workers would benefit from the social allowance increase, irrespective of their wages. An additional 8 million pensioners would benefit, with a minimum increase of LE50 being applied. The social welfare assistance given to poor pensioners will also increase, from LE200 to LE300 per month.
The move has prompted raised eyebrows from some influential onlookers.
Magda Kandil, the US-based former executive chair of the Egyptian Center for Economic Studies, said she was "stunned" by the rise.
"Morsy is following the same path of appeasing the public at the expense of a sound economic budget. Only one-quarter of the labor force works for the government, while small- and medium-sized enterprises represent 80 percent of Egypt's gross domestic product," she said.
Kandil suggested that instead of "pampering" public sector employees, Morsy should have made the money available to such enterprises.
"Who else is getting these raises at a time when the economy has been deteriorating?" she asked. "The private sector has either been cutting salaries or letting people go."
But Wael Gamal, who writes about Egypt's political economy, disagreed.
"This is a good move. It's just above the inflation rate, so it's not really much and can easily be covered by the budget. It's important to give people a boost, because there's a huge gap in people's income," he said.
Gamal said small-and-medium-sized enterprises are important, but require a long-term strategy rather than a budgetary fix. But he said a consolidated increase in public sector allowances would continue to stimulate economic activity on an ongoing basis.
"A huge percentage lives under LE400 a month," he said. "When you give more wages to the pockets of these people, it will go directly to consumption and help local demand. This will stimulate the market by pumping money into the pockets of the poor."
Gouda, of the FJP, raised a similar point.
"A lot of those who will benefit from the salary raises and increased spending live below the poverty line," he said.
But both he and Gamal worry that inflation will eat into the value of government wage raises.
When former President Hosni Mubarak increased the social allowance in 2008, Gamal said, the inflation rate jumped to 24 percent because of simultaneous food and fuel price hikes. To stop this, he suggested enforcing anti-trust laws in the markets.
Many of Egypt's staple food products, such as rice, are controlled by monopolies that have excessive power to set prices.
Another potential source of inflation is a looming currency crisis. The slackening of the tourism industry and weak demand for Egyptian exports overseas have pushed the post-Mubarak administration to use the country's reserves of foreign currency to buy up Egyptian money on international markets, to prevent the price of the pound from falling.
But these foreign currency reserves are running low, and if the pound does lose value, imported goods — including food and fuel — will become more expensive.
IMF uncertainty looms
Partly for this reason, and to help with the growing budget deficit, Egypt has been trying for the last year and a half to negotiate a US$3.2 billion loan with the International Monetary Fund. But the IMF has set consensus among Egyptian political players as a condition for disbursing the loan, and this has caused discussions to stall on numerous occasions.
The economy faces a shortage in liquidity, with a high budget deficit, a balance of payments crisis and looming currency devaluation. Initiatives such as the increased social allowance rely on finding a way to plug the growing hole in the budget, and help from the IMF is seen as a stepping stone to further external lending.
For 2012/13, state spending is expected to rise to LE533.7 billion. Former Finance Minister Samir Radwan said in an interview with Al-Ahram's online portal that about 80 percent of the budget is already set aside for public workers' salaries, paying off Egypt's debts, and food and fuel subsidies. This leaves only 20 percent for new spending.
A part of this new spending will come from a reduction in fuel subsidies, which is set to drop to LE70 billion in 2012/13, from LE95 billion in the previous budget.
While there have been suggestions from the government and IMF recently that talks could resume, Kandil was skeptical. Not only did she not approve of the 15 percent increases to the social allowance, but she also believes the political direction of the country remains too uncertain for a loan disbursement any time soon.
"My own impression is that the IMF is not going to be comfortable without all the elements of the political process in place," she said.
This includes consensus in Parliament, which was dissolved by a court ruling last month, and clarity on who will hold power — in the long term — of the legislative branch of government. For now, this is held by the military.
"The military claims the right of legislative power, but the president claims it also. Parliament is dissolved, but some are disputing this," Kandil said. "The IMF will need clarity on who their counterparts are in the process, and there is big uncertainty about that right now."
This piece was originally published in Egypt Independent's weekly print edition.