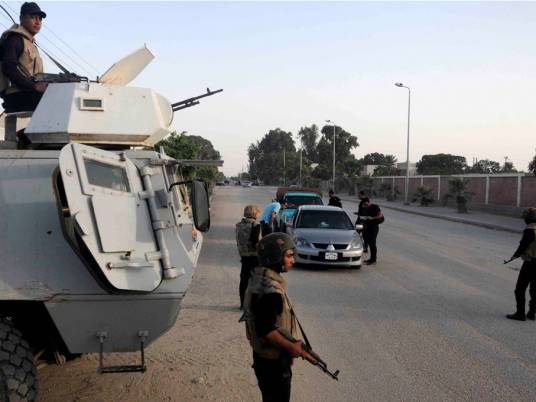 The British government has resumed 24 arms export licenses to Cairo, according to a statement from the British embassy in Cairo, the latest in a diplomatic back and forth following months of crackdowns and street violence across Egypt.
Another seven export licenses have been permanently revoked, reflecting the British government's wariness that arms and equipment could be used for the purpose of "internal repression" in Egypt.
The restored licenses will be used to "support the Egyptian security forces in combating terrorism in Egypt," an embassy statement announced Sunday, the same day U.S. Secretary of State John Kerry arrived on an unannounced visit to Cairo to attempt to re-build tattered relations with Egypt's interim government.
Potential arms transfers between London and Egypt would come within the framework of Egypt's "fight against genuine terrorism," the statement explained, a possible reference to a months-long campaign against Islamist militants in the Sinai Peninsula by Egypt's armed forces. The Egyptian government has repeatedly justified crackdowns against the Muslim Brotherhood and its Islamist supporters as a "war on terrorism."
Seven licenses have meanwhile been revoked, according to a spokesperson from the Department of Business, Skills and Innovation (BIS) in London, after the government "fully re-assessed all licenses for Egypt." The remaining number will remain under suspension, subject to review.
"We have decided to release 31 extant licences from suspension," the BIS spokesperson said on Sunday. "Twenty-four of these will be approved as we do not judge the goods might be used for internal repression. Seven will be revoked as there is a clear risk that the goods might be used for internal repression."
"Licences for goods which might be used for internal repression will remain suspended," the spokesperson added. Government officials were unavailable to provide details about the equipment detailed in the export licenses, or the beneficiary "end users."
London suspended licenses headed to Egypt in late July and again in late August in coordination with the European Union (EU), a response to successive crackdowns by security forces against protesters rallying against the 3 July overthrow of Islamist President Mohamed Morsy.
A British embassy spokesperson confirmed to Egypt Independent that "of licenses that were suspended, 24 have been resumed, because we judge they pose no risk" in being used for internal repression, but did not elaborate.
MONTHS OF CENSURE
The Guardian reported in late August that 49 arms licenses, consisting of military communications, radar and software, military aircraft components and small-arms ammunition, had been suspended.
This came in response to a nationwide peak in violence following violent dispersals of two pro-Morsy sit-ins at Rabaa al-Adaweya and Giza's al-Nahda Square on 14 August, which killed hundreds.
"As a result of the developing situation in Egypt, we have agreed with EU partners in this instance to go further and suspend all export licenses for goods which might be used for internal repression," the UK's Business Secretary Vince Cable said in a statement on 28 August.
"This suspension will apply to licenses for the Egyptian army, air force and internal security forces or ministry of the interior," UK's Department for Business, Innovation and Skills added in a statement.
Another suspension of five licenses came from the British government in late July, prohibiting the transfer of small arms and machine-gun components, armoured personnel carrier parts and communications equipment.
'SELF-DEFENSE ONLY'
In response to today's announcement, Foreign Ministry spokesperson Badr Abdel Aaty said: "I can assure you that it is not the policy of this government to use military equipment or otherwise for suppression."
"[Security forces] are using [this equipment] for self-defense to apply the rule of law, nothing more and nothing less."
Interior Ministry spokesperson Hany Abdul Latif denied any knowledge of a resumption of arms licenses heading to Egypt's police and internal security forces. A source at the army's spokesperson office in turn denied the armed forces would be in receipt of weapons or equipment from the British government, suggesting it would be going to the police apparatus instead.
On Saturday, Foreign Minister Nabil Fahmy said Egypt would have to look further than the United States for its security needs, in a rare interview ahead of an unannounced visit to Cairo by U.S. Secretary of State, John Kerry.
"We will work in that constructive fashion to develop the relationship but there is no question in our mind that we will fulfill our national security needs as they are required from whatever source we need," he told Reuters.
'DEPENDENCY NO OPTION'
Ministry spokesperson Abdel Aaty told Egypt Independent on Sunday how the ministry has "stated very clearly that the Egyptian government will waste no efforts in guaranteeing the delivery of all [its] vital needs, especially those related to national security."
"We are opening up our options related to foreign policy," he added. "Dependency is not an option."
The U.S. announced it would temporarily suspend military aid and around $260 million in financial assistance to Egypt, turning decades of diplomatic relations sour.
Egypt receives $1.3 billion from Washington each year, part of an agreement signed with Israel in 1979.
The rift, which Washington officials maintain is only temporary, has forced Egypt to look further afield for military and financial assistance. Gulf states pledged billions of dollars in the wake of Morsy's July ouster.
However British officials remain wary of a wholesale return to business with the Egyptian government.
In September this year a House of Commons committee accused senior Cabinet ministers of "profoundly misleading" claims that Britain's arms industry was not being used for internal repression in so-called Countries of Human Rights Concern. Egypt is not part of that 27-nation list, drawn up by the Foreign Commonwealth Office (FCO), but the summer's violence has highlighted officials' concerns about contributing to excessive use of force by security forces.
According to the European Union's Code of Conduct on Arms Exports, internal repression includes "torture and other cruel, inhuman and degrading treatment or punishment, summary or arbitrary executions, disappearances, arbitrary detentions and other major violations of human rights" as stated in international conventions.
A British embassy spokesperson stressed that arms licenses with Egypt will remain "under constant review."