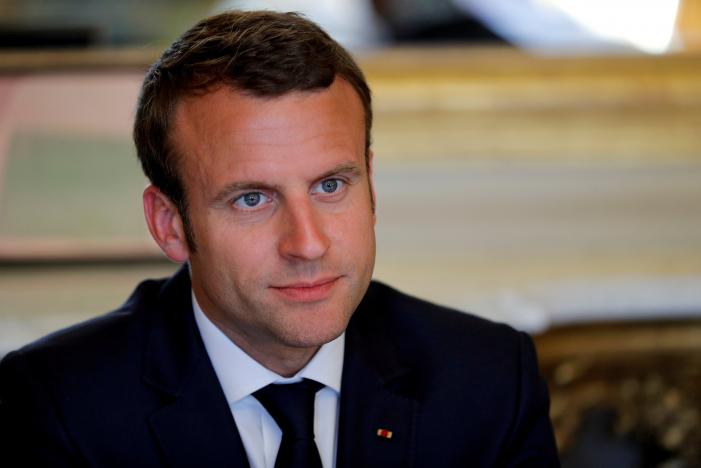 A first-round of the French parliamentary elections promising President Emmanuel Macron a crushing majority in parliament lifted investor sentiment on Monday, though the lowest voter turnout in modern history clouded celebration.
Pollsters said Macron was on course to win as much as three quarters of National Assembly seats in the June 18 second round after 28 per cent of those who voted in Sunday's first round chose his Republic on the Move (LREM) party.
That would be France's biggest majority in decades, and effectively leaves only the powerful trade union movement as a potential obstacle to the pro-business reforms ex-banker Macron has promised to introduce in a bid to boost growth and jobs.
French borrowing costs fell on Monday, tightening the gap over benchmark Germany.
France's 10-year government bond yield fell 3 basis points to 0.62 percent, outperforming other higher-rated euro zone peers. The gap over benchmark German Bund yields tightened to around 36 basis points from around 39 bps late on Friday.
But fewer than half of the 47 million voters turned out in the first round – the lowest level by far in a legislative election in the 60-year-old fifth Republic.
Macron was a political unknown three years ago and is heading a start-up party, but as the scale of his likely victory emerged on Sunday, his opponents saw a danger to democracy.
Just a month after the 39-year-old won a bitter and drawn-out battle for the presidency, some questioned whether he had a mandate to pursue a pro-business reform agenda.
The spokesman for Macron's government recognized the challenge that lies ahead.
"We have to restore trust," said Christophe Castaner, who is also minister for parliamentary relations, on Monday.
"It is the government's responsibility, that of the president, that of the prime minister, to restore trust in the election process," he told France 2 Television.
"We don't want a majority to have an easy time of it. We want a majority that will reform," he added.
The vote delivered a crushing blow to the Socialist and conservative parties that had alternated in power for decades until Macron's election in May blew apart the left-right divide.
First-round results decided only four of the 577 seats on offer, leaving the rest to be fought out on June 18 by two or more candidates who survived elimination.
Nationally, LREM gathered 28.2 percent of the votes cast.
Conservative party The Republicans and allied center-right Union of Democrats and Independents came second with 18.8 percent but look set to lose half of their seats and possibly end up with fewer than 100 compared with more than 400 for LREM.
Marine Le Pen's National Front (FN) scored 13.2 percent and the ruling Socialists just 7.4 percent. Pollsters predict the FN may not improve on the two seats it won in 2012 despite far-right leader Le Pen's strong showing in recent years, while the Socialists who ruled with a majority for the past five years may have only have 30 or 40 seats.
Macron, the youngest leader since Napoleon, has to make good on campaign pledges to revive France's fortunes by cleaning up politics and easing regulations that investors say hobble the euro zone's second-biggest economy.